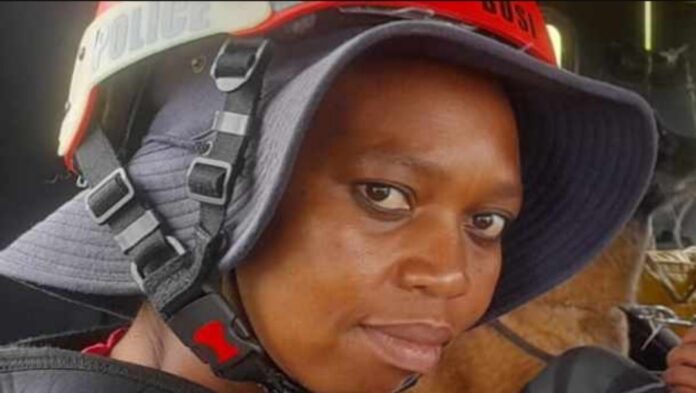 A police rescuer in KwaZulu-Natal (KZN), and a police dog, have tragically died during a search and rescue operation, following the KZN floods which devastated parts of the province last week and left 443 people dead, according to COGTA.
Dean Macpherson, DA Shadow Minister of Trade, tweeted yesterday: "More sadness and broken hearts for us in KZN today. Brave Police Sergeant Busi Mjwara died while trying to search for a missing 8 year old child. SAPS K9 Leah didn't hesitate to jump in to assist her and sadly drowned as well. May these heroes both rest in peace."
IPSS Medical Rescue said Stgt Mjawa hailed from Pietermaritzburg SAPS SAR and K9 Leah from Durban SAPS SAR.
"Our heartfelt condolences go out to friends, families, colleagues as well as K9 Leah's partner and handler, Sgt Mathews Phakati," said IPSS. "We mourn the loss of these heroes, and they will be missed in the Search and Rescue Community."
KZN's Premier Sihle Zikalala also said on Sunday: "We wish to convey our heartfelt condolences and sympathy to the family of one of our search and rescue team member who was busy doing search and rescue at the Henley Dam. He experienced difficulty breathing and was airlifted to the Medi-Clinic Hospital and unfortunately passed away. May his sole rest in peace."
Although rescue operations in KZN were slightly hampered over the weekend due to inclement weather, the teams responded to 38 call-outs, and recovered six bodies.
"We stand at approximately 63 persons missing or unaccounted for. The death toll now stands at 443," said the Premier.
He said under the South African Police Service, four pilots and 48 crews have been deployed; with a further four pilots and 12 crews deployed under the SA National Defence Force.
"We (also) have rescue dogs, four jet skis, and a combined crew of 67 experts in search and rescue missions," said the Premier.
Fast Clean-Up to Alleviate Post Traumatic Stress
KZN Cogta said they are responding with urgency as "we are mindful of the fact that most of our citizens are recovering from post-traumatic stress related to this disaster. The magnitude of this disaster is overwhelming to all who care. It is against this background that we need to act with speed in recovery and removing all the debris including containers that lie strewn on the roads as they remain a grim remainder of the devastation."
Addressing Perceptions of Corruption
Many South Africans have voiced reluctance to support a government flood relief fund, which could just end up in the pockets of politicians. Well known lawyer Richard Spoor tweeted: "Whatever you do, don't give money to KZN COGTA, most will go to cronies; give to Gift of the Givers, who won't steal it and ensure that it goes to those who need it."
KZN Cogta said: "We want to say without any equivocation that all the resources allocated for flood relief and the recovery and rebuilding process will be utilized in line with fiscal rectitude, accountability, transparency and openness."
Saying it has learnt the lessons of Covid-19, Cogta said no corruption, maladministration or fraud will be tolerated and that "all the funds will be used prudentially and that no one will be allowed to feast on the suffering of our people in order to line their pockets."
Spoor responded: "It would be good to believe him, but the fact is that the same flawed procurement policies and directions that enabled corruption and waste in the past will stay in place. Until those policies are changed, the corruption and waste will continue."
Premier Zikalala also dismissed as "baseless" allegations that his family home in the north of Durban received preferential treatment with a tank that was meant to supply water to the disaster-stricken community. The KZN Provincial Government said the allegations arose because of a fake video that had been digitally-manipulated.
More sadness and broken hearts for us in KZN today. Brave Police Sergeant Busi Mjwara died while trying to search for a missing 8 year old child. SAPS K9 Leah didn't hesitate to jump in to assist her and sadly drowned as well. May these heroes both rest in peace. pic.twitter.com/4smQrhuIZC

— Dean Macpherson (@DeanMacpherson) April 17, 2022
The KZN government says it is still receiving call outs from flood victims who need assistance in responding to the disaster. Provincial Cogta spokesperson Senzelwe Mzila gives us an update on the current situation. #Newzroom405

WATCH: https://t.co/fy7Ljfr9BW pic.twitter.com/D5ZjYDDa8F

— Newzroom Afrika (@Newzroom405) April 18, 2022
Support Gift of the Givers Disaster Response interventions:
? Click: www.giftofthegivers.org/make-a-difference, reference 'KZN Floods'
☎️ Call: 0800 786 911