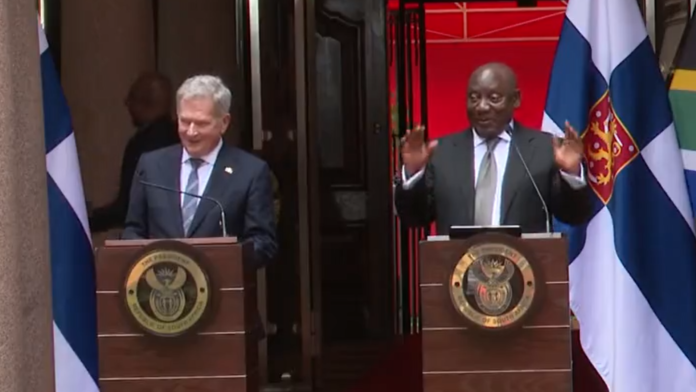 A video has been shared by Newzroom Afrika, showing President Cyril Ramaphosa having to take some evasive action after a flag pole nearly landed directly on his head while he was conducting a public address.
As the flag landed noisily just inches away from him, Ramaphosa could be seen getting a fright before nervously commenting "that was quick" as a member of staff came to grab the flag.
Of course, at a time when South Africa is enduring a nightmare energy crisis, social media users were mirthless when commenting on the fact that things are quite literally falling apart under the leadership of Ramaphosa.
"The state has fallen," one Twitter user commented, while another added "the flag almost got us a new president" as a host of merciless comments flooded in.
ALSO READ: Cricket South Africa: 40 years of KFC Mini-Cricket milestone
YOU CAN WATCH RAMAPHOSA'S NEAR ESCAPE BELOW:
[WATCH] "That was quick!" – President Cyril Ramaphosa's reaction to a South African flag that falls just inches away from hitting his head. #Newzroom405 pic.twitter.com/lEOH3HucDt

— Newzroom Afrika (@Newzroom405) April 25, 2023
ALSO READ: EFF urges removal of apartheid statues after SCA flag court ruling
Meanwhile, when delivering the closing address at the ANC's four-day national executive committee (NEC) meeting, party president Cyril Ramaphosa said a guideline framework for managing coalitions at a local government level would ensure that there was stability in municipalities.
"This framework is about ensuring that local governments across the country are stable, they are functional, and they prioritise the provision of basic services to our communities."
ALSO READ: Moonshot Pact: DA gets ready to oust the ANC-EFF coalition
He also suggested that dealing with the electricity crisis is the government's number one priority.
"We are deeply aware of the damage that the energy crisis is causing to our economy and the disruption that it is causing for our people's daily lives," Ramaphosa said.
"The NEC agreed that achieving energy security and bringing an end to load-shedding remains the number one priority of our movement and our country."
This article was originally published by Craig Lewis.