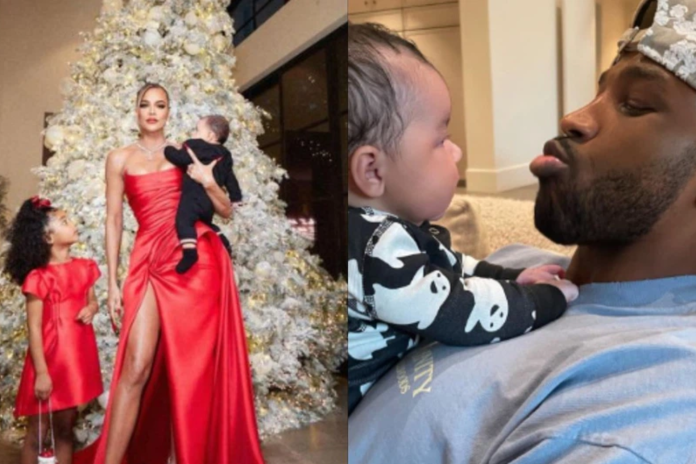 American reality star Khloé Kardashian revealed that she "struggled" to connect with her son that she welcomed via surrogate with "baby daddy" NBA player Tristan Thompson — on the first episode of The Kardashians season three which released on Hulu on Thursday 25 May.
ALSO READ: Khloé Kardashian and Tristan Thompson's son's name revealed
KHLOÉ STRUGGLED TO CONNECT WITH SURROGATE-BORN SON
The Lord is back! Scott Disick made his return to The Kardashians season three after not appearing on the second season of the series. He sat down with Kim and Khloé Kardashian and seemingly caught up.
Khloé welcomed her son Tatum via surrogate with Tristan Thompson in July 2022. The reality star and Tristan also have a four-year-old daughter named True together. While Tristan is also a father to Prince, who he shares with ex-girlfriend Jordan Craig and one-year-old Theo, who he shares with fitness trainer Maralee Nichols.
On the first episode of The Kardashians season three, Khloé revealed that she didn't really register that she was having a child until she got to the hospital.
"I felt really guilty that this woman just had my baby," she said.
"I take the baby and I go to another room and you're sort of separated. It's such a transactional experience 'cause it's not about him," she continued.
She admitted to Scott and Kim that the process had been challenging for her. Kim welcomed two of her four children — Chicago and Psalm via surrogate.
"I wish someone was honest about surrogacy and the difference of it…It's still great, it's just very different," she added.
ALSO READ: Meet the new Aston Martin DB12
THE REALITY STAR CONFIRMS SON'S NAME
A source told the US Sun that Khloé Kardashian and Tristan Thompson's son's name is Tatum Robert Thompson. Robert is the name of Khloé's late father — Robert Kardashian who died of cancer in 2003 and the reality star's brother Rob Kardashian.
"There was talk about whether it should be Tatum Robert or should it be Robert Tatum," said the source to the publication.
"Some in the family were leaning more towards Robert, because it honors her dad and her brother, [Rob Kardashian]," the source continued.
In a confessional on The Kardashians season three, the reality star confirmed that her son's name is in fact Tatum.
Tristan Thompson's 'baby mama' Maralee Nichols seemingly throws shade at
Khloé Kardashian. Images via Instagram @maraleenichols @realtristan13 @khloekardashian.
This article was originally published by Alicia Naidoo.