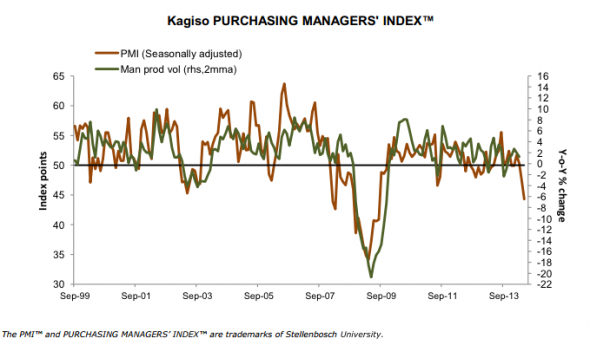 Outlook Weighed Down by Negative Economic Data
South Africa's benchmark Kagiso purchasing managers index (PMI) fell to 44.3 in May, the lowest it's been since September 2009. It fell from an already dismal 47.4 in April. When the PMI, which is compiled by the University of Stellenbosch-based Bureau for Economic Research (BER), comes in below 50 it shows that the economy is shrinking […]

South Africa's benchmark Kagiso purchasing managers index (PMI) fell to 44.3 in May, the lowest it's been since September 2009. It fell from an already dismal 47.4 in April.
When the PMI, which is compiled by the University of Stellenbosch-based Bureau for Economic Research (BER), comes in below 50 it shows that the economy is shrinking while levels above 50 indicate growth.
This comes on top of a bad few weeks for South Africa, with a slew of negative economic data all pointing towards a general worsening of the economic climate and an increasingly bleak outlook for the army of unemployed youth.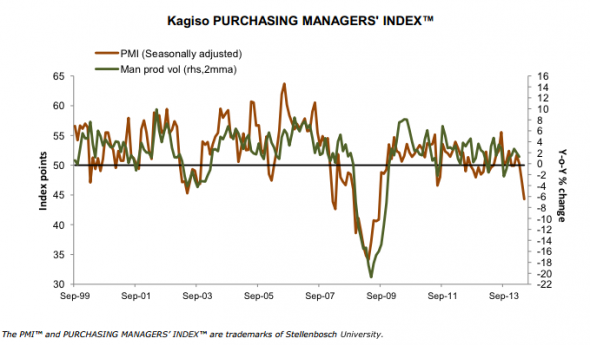 In the explanatory statement accompanying the data, Kagiso said that sharp falls in the business activity, employment sub-indices and sluggish demand were dragging the index down.
Some relief came from new sales orders which ticked up a tad (although the sub-index still came in below 50) and from the easing of inflation pressures.
Prior to the PMI's release this morning, the most telling pieces of data that came out recently were the gross domestic product numbers and the Reserve Bank's composite leading business economic indicator.
The economy contracted 0.6% in the first quarter of the year, hit hard by the ongoing strike at platinum mines, and the leading indicator fell 2.4% year on year in March. This came after February's 2.7% year-on-year decline in February.
The leading indicator is probably the best predictor of looming economic conditions six to 12 months into the future and is used by economists to help guide their growth forecasts.
It takes into account things that tell the story of real economic activity, including the number of jobs being advertised, building plans passed, manufacturing volumes, real interest rates, car sales, conditions in trading partner countries, commodity prices, the all share index and money supply.
Unfortunately, there is no sense from those in charge that they have any real plans yet as to how to reverse this.
It is now highly unlikely that economic growth this year will be much north of 2%, and fears are that it could be far lower.
Opinion is divided about whether South Africa is heading into another recession, but even if it doesn't it is abundantly clear that growth will be a far cry from the 5% that is needed if inroads are to be made into the country's terribly high rates of youth unemployment.
Of course, driving the weakness (and highlighting again how important mining is to South Africa's economy) is the ongoing strike in the platinum belt, which had a far greater impact in the first quarter than anybody thought it would.
The new Minister of Mines Ngoako Ramatlhodi seems to be taking the strike more seriously than his predecessor but there appears to be no realistic prospects of any rapid solution. It will also take time to get production back up to pre-strike levels so the aftershocks of the strike will be felt long after it is resolved.