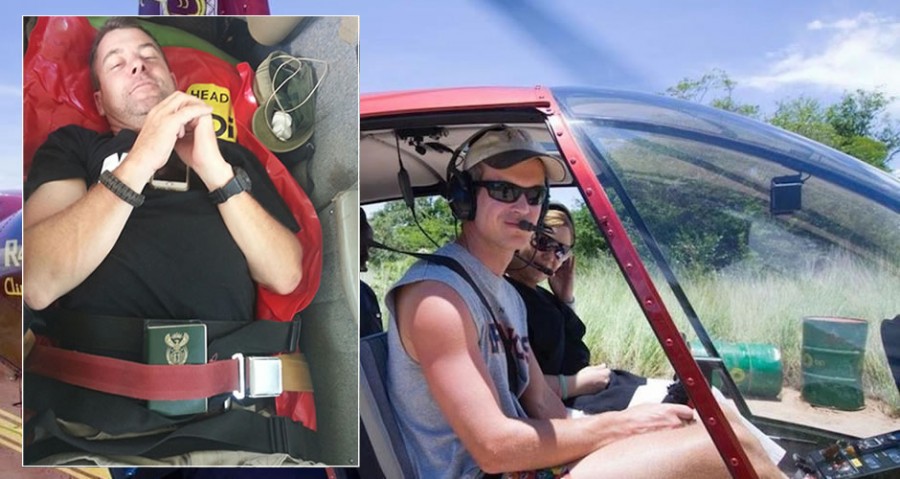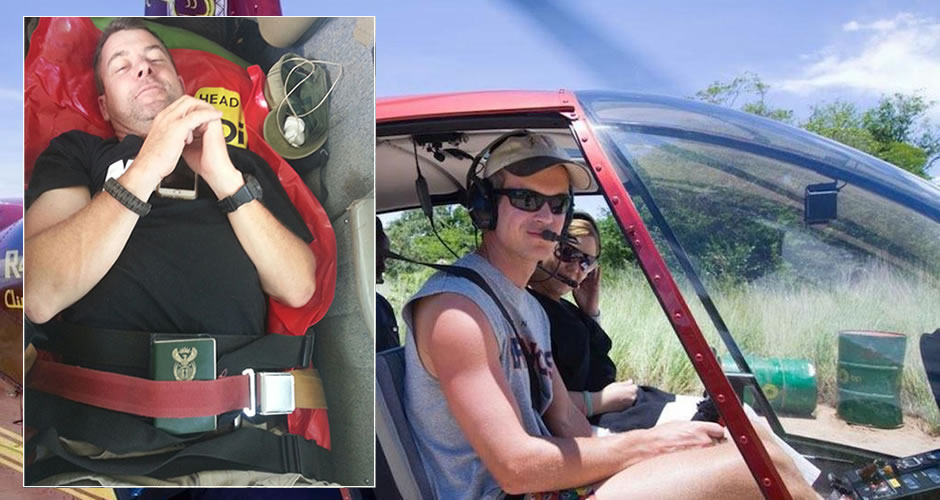 South African Survivor Recalls Shocking Shooting of Chopper Pilot by Poachers in Tanzania
The South African survivor of the helicopter in Tanzania, which was shot down by poachers two weeks ago, has spoken exclusively to SAPeople about the night of the shooting in which his friend and colleague – British pilot Roger Gower – was fatally wounded. Nick Bester – who grew up on a farm in the Free […]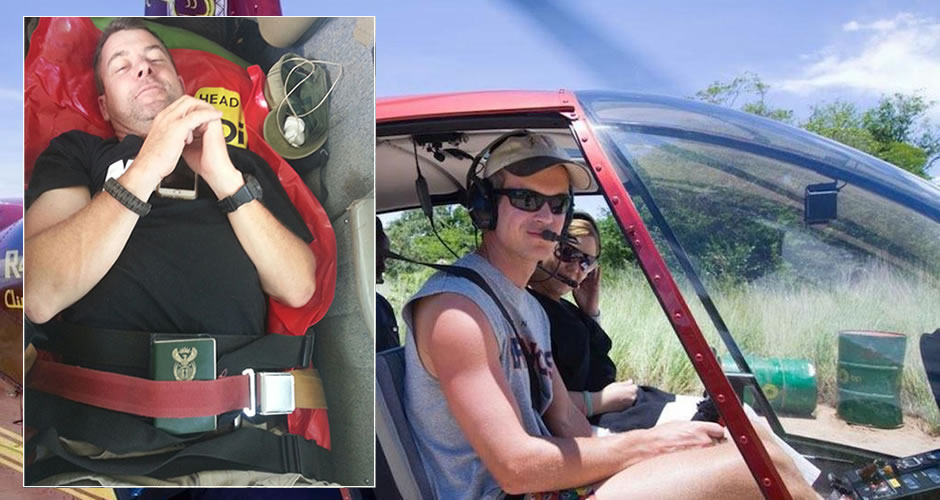 The South African survivor of the helicopter in Tanzania, which was shot down by poachers two weeks ago, has spoken exclusively to SAPeople about the night of the shooting in which his friend and colleague – British pilot Roger Gower – was fatally wounded.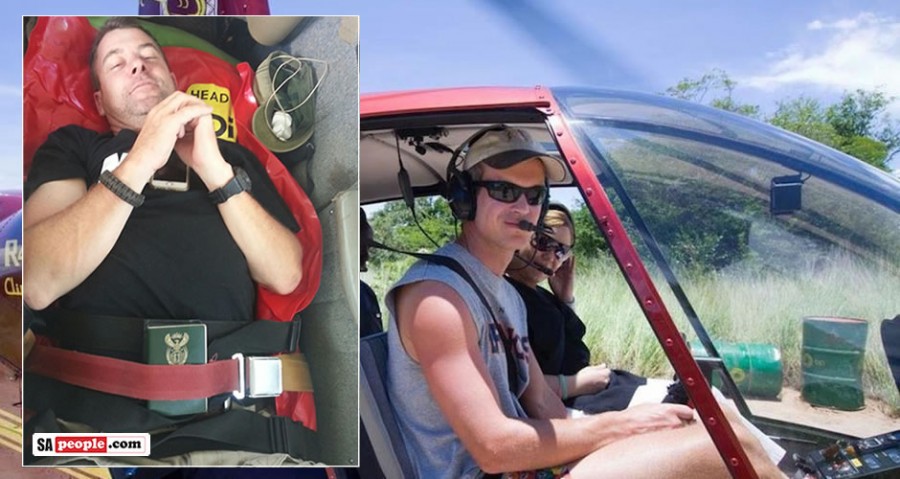 Nick Bester – who grew up on a farm in the Free State – was the sole passenger of the ill-fated chopper piloted by Gower as they tracked poachers on 29 January 2016.
Speaking publically for the first time since the incident, the 43-year-old has revealed the bravery of his dying friend as he desperately tried to save him, the harrowing hours he spent in the bush waiting for a rescue team to reach them, and their crash landing itself.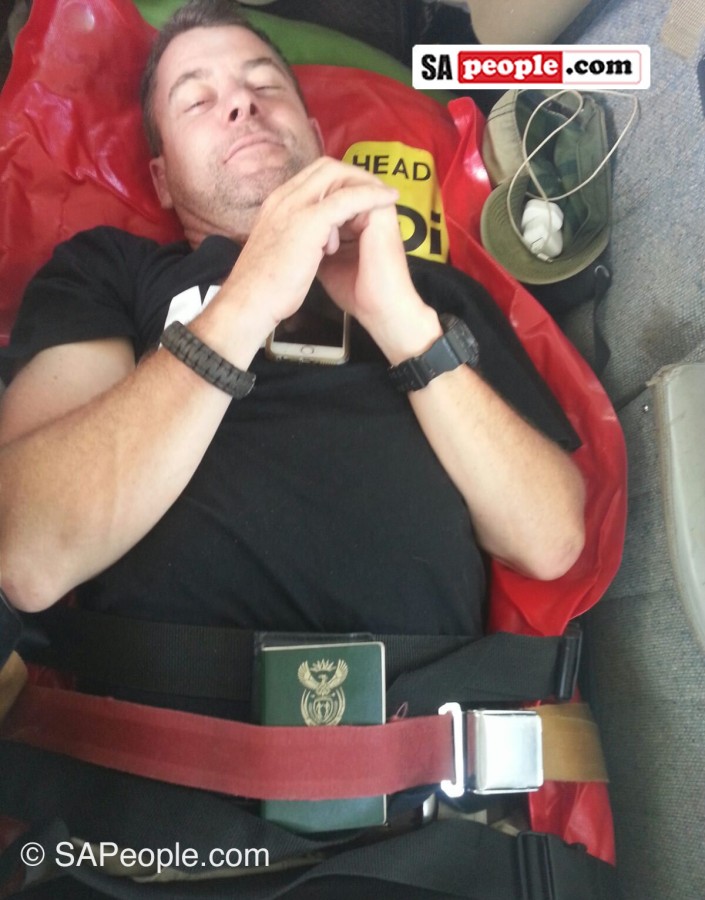 Contrary to reports, Gower was unable to land the aircraft (due to the severity of his injuries) so Nick "grabbed on to the T-bar steering control to keep it straight" as they plummeted to the ground.
"I don't know if that helped or not," says Nick, admitting, "It was a crash landing… Roger would have been horrified if anyone called that 'landing'!"
As Ranch Manager of Mwiba Wildlife Reserve, this was not Nick's first encounter with poachers in a country which last year admitted to losing a massive 60 per cent of its elephant population – possibly more – in the past five years due to a demand from China for their ivory tusks.
Part of Nick's daily tasks include working with anti-poaching units to a lesser or larger degree. Anti-poaching flights – such as the one he and Roger were on on that fateful evening – are something he participates in regularly.
"It serves as an effective aerial reconnaissance tool," he explains. "We cover heaps of ground quickly and effectively. Especially in the current wet conditions."
Usually the presence of the helicopter serves to deter poaching; and where poachers are spotted, the helicopter crew are able to call in ground teams and accurately co-ordinate using radios and GPS.
"It is not an offensive tool," says Nick. Despite the poaching being pandemic and poachers ruthlessly slaughtering elephant, the probability of them shooting down the chopper was not high.
"I can't say that we never expected it, as of course it is a possibility," says Nick. "We, however, thought it unlikely, as this would be taking the poaching to another level."
He hesitates to call the current poaching crisis a "war" because "we can't fight it like a war", but concedes it is an apt way to describe the industrial-scale poaching that threatens to drive elephant to extinction within our lifetime.
Roger and Nick had known each other for seven years. They were friends, colleagues and former housemates. Nick had been living in Tanzania since 2006. (A friend had been begging him to move to Arusha and the day he and his then serious girlfriend packed it in, he packed for Tanzania.) It's a country he describes as a land of "beauty and wide open spaces" with a fantastic president (Magufuli).
On the night of the shooting Nick and Roger were investigating a fresh poaching scene (of three elephant), after having received a report from a guide – who was out scouting for game – that he had heard six shots.
Nick says the chopper got close to the scene, was shot at once, and tried to escape… but "we were so close to where the poachers were hiding. I thought we were pretty much out of there… when I heard the second shot, and in my peripheral vision I saw things flying.
"I looked across at Rog and he told me had been shot. He was severely injured and that's what brought us down…"
"It was a crash landing… Roger would have been horrified if anyone called that 'landing'!"
After crash landing, Nick – who was only discharged from hospital yesterday – describes what happened:
"My back was in severe pain, but my thinking at the time was to get out of the chopper to take cover from the poachers in case they wanted to finish us off, as we were very close to them. They would have stood to gain a great deal in equipment. The chopper bursting into flames was also a consideration.
"I got out, and then helped Rog out and we went as far as we could and hid in dense bush nearby."
Using a GPS point he radioed in to the lodge manager – "who happened to be talking when I needed to call" – and then called the anti-poaching team who had been heading towards their position, but were struggling in the conditions.
Using a "good little trauma kit" Nick had with him, he did his best to bandage and "patch up" his mate.
"I spent a great deal of time looking out for further danger, and trying to give advice to people getting to us. Once the adrenaline had worn off though my back started to kill me.
"Roger needed a pillow and I was too weak to rip a cushion off the chopper. I therefore went and lay with him and put his head on my chest.
"I switched my handheld radio off and listened to transmissions on the chopper, only talking on my handheld so we didn't give our position away.
"After an hour of lying like that I couldn't move anymore."
Rather than worrying about nocturnal predators which could attack them, Nick's biggest concern was actually for his rescuers – "the people walking to us in the dark could have stumbled on buffalo, or perhaps a wounded elephant, which was a very real possibility."
Roger, he says, remained conscious for a long time.
"He passed away just before the doctor arrived… however it would have been too late anyway. We needed a chopper within an hour of the incident to have realistically saved his life."
Recalling those unimaginable three hours he spent trying to keep his friend alive, Nick says "I did what first aid I could and tried to keep him awake, positive and warm."
He adds that Roger was "exceptionally brave through all that pain. I think few people would have taken it like he did."
Roger was "exceptionally brave through all that pain. I think few people would have taken it like he did."
The morning after being rescued Nick was airlifted to hospital in Nairobi and then flown to Johannesburg a few days later, where he has been hospitalised at the Mill Park Hospital with a fractured L1, two broken ribs and various lesser fractures in his back.
He plans to spend two weeks in recovery in South Africa, where his mom and two sisters still live, and where he's already been able to catch up with some "great old friends". He'll then return to Arusha for a month of recuperation, using the time productively – with a private tutor – to advance his kiSwahili.
Has this incident made him rethink his commitment to fighting poaching?
"I'm still absolutely committed. What will break me eventually is if the respective governments no longer commit to help combat the problem, because without them it will be hopeless."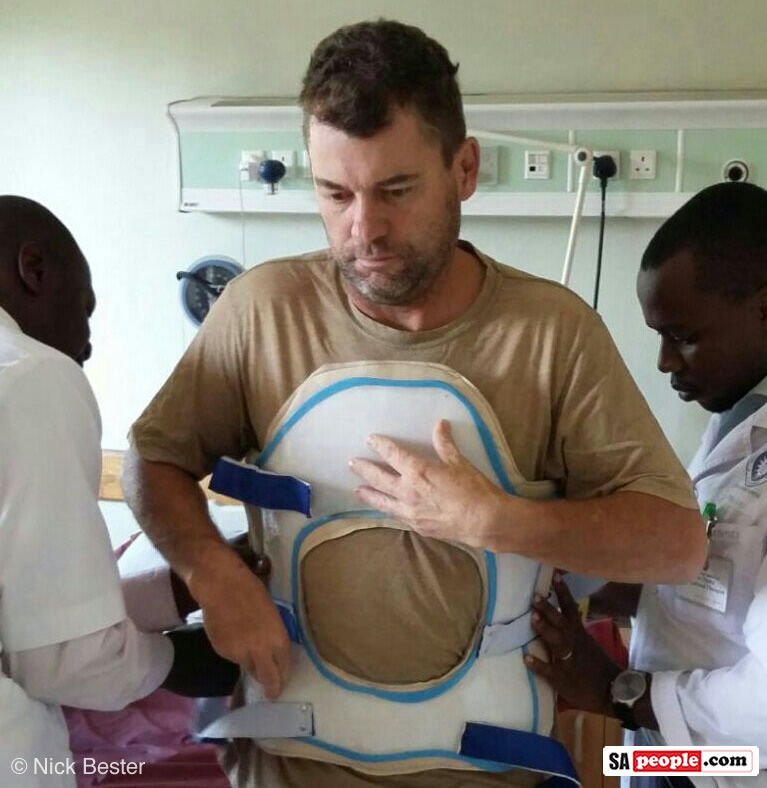 As a young boy, growing up like many South African kids with annual trips to a national park, Nick was drawn to the "exciting life" of the bush. His family were farmers and they, together with his grandparents and cousins, were passionate about wildlife. At 12 it was clear he would become a game ranger.
He credits Clifton Nottingham Road – where he went to boarding school in standard 2 (Grade Four) – for instilling an awareness of poaching through school projects and outings to the bush.
After matriculating from Hilton College in 1990, Nick followed his dreams and qualified from Cape Technikon with ND Nature Conservation. He worked as a game ranger at Double Drift Game Reserve in the former-Ciskei (now Eastern Cape) before moving to Tanzania.
Since the incident, Nick has been in touch via text with one of Roger's brothers. "He seems like a super guy, and I hope I can meet them one day."
"If money goes to the right anti-poaching] people we can make a difference…"
From his hospital bed back in SA this week, Nick has been following the fundraising page which Roger's brothers have set up in his name, and notes that "we always lack enough money to fight poaching properly, because it's expensive!! If money goes to the right people we can make a difference…"
The incredibly brave South African who has proven he is willing to put his own life at risk to protect Africa's wildlife, remains resolute and determined to continue fighting the onslaught of poaching.
Today Nick says, without hesitation, that he will be returning to work as soon as possible. "Absolutely! If I wasn't physically disabled I would be back already."
MORE
If you would like to help make a difference to the wildlife in Africa, please consider donating to Roger's former employee, non-profit Friedkin Conservation Fund (FCF), which is dedicated to conserving more than 6.1 million acres of Tanzania's protected areas.
Please reference Roger Gower for donations made in his memory.
http://friedkinfund.org/how-to-help
© SAPeople. com | ALL RIGHTS RESERVED: No part of this article may be copied, republished or reproduced in any form without prior written permission from admin@sapeople.com