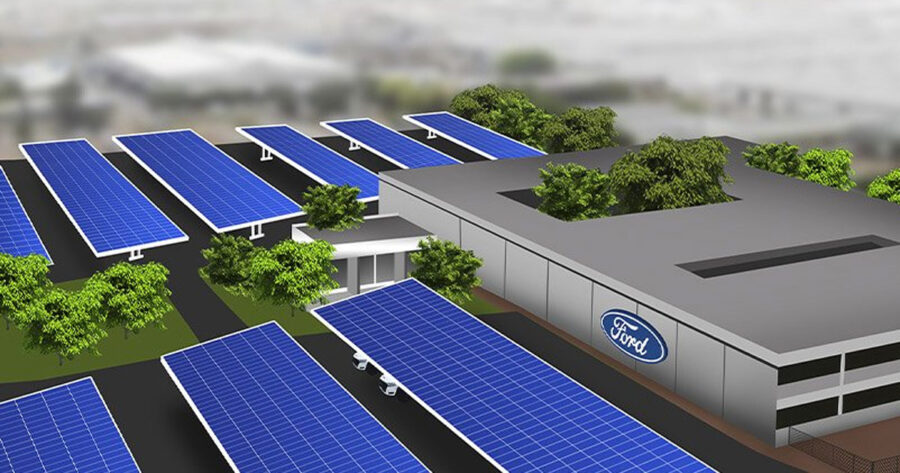 Ford South Africa Launches One of World's Largest Solar Carport Projects
Ford South Africa has launched a major renewable energy programme that will see the company become  energy self-sufficient by 2024, and which will include one the largest solar carports in the world. Ockert Berry, VP Operations at Ford South Africa, said Project Blue Oval has begun with solar panel installations – valued at R135-million – […]
Ford South Africa has launched a major renewable energy programme that will see the company become  energy self-sufficient by 2024, and which will include one the largest solar carports in the world.
Ockert Berry, VP Operations at Ford South Africa, said Project Blue Oval has begun with solar panel installations – valued at R135-million – at the Silverton Assembly Plant in Pretoria.
In a joint project with SolarAfrica, the solar PV (photovoltaic) carports will be specially developed and locally manufactured to cover 4,200 parking bays using 31,000 solar panels… making it one of the largest solar carports in the world! The 13.5MW solar installation will deliver about 30% of the annual power needs to the Silverton plant… and will create 100 local jobs.
"Our goal by 2024 is to have the Silverton plant completely energy self-sufficient and 100% carbon neutral, using an integrated renewable and co-generation energy mix comprising solar PV, biomass, biogas and biosyngas for all our electricity, gas and heating requirements," said Berry.
This will make Silverton one of the very first Ford plants in the world to achieve this status, said Ford SA. Silverton produces the Ford Ranger, Ranger Raptor and Everest for domestic sales, and ships to over 100 global markets.
The goal is to achieve 'island mode', said Berry, and no longer depend on the national power grid (Eskom).
"We will also be introducing 100% water recycling, and all non-fermentable waste will be repurposed through a pyrolysis system to produce syngas," said Berry, who added that not only will this make Silverton more efficient, but also more cost-competitive.
The next phases (biomass etc) are expected to create "employment for a further 2,400 people", Ford SA said.
WATCH VIDEO Ford Energy Project Virtual Launch