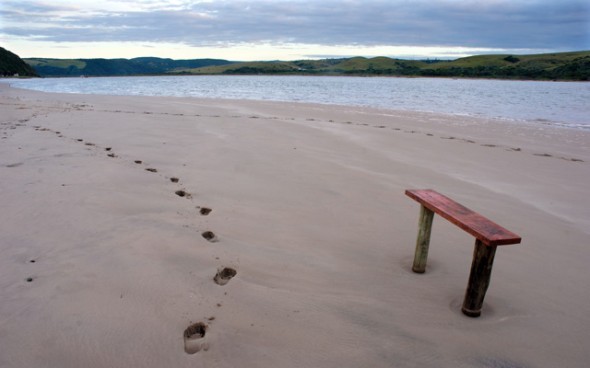 Life's a beach in South Africa
It's summertime in South Africa, and time to head for the beach. The country has more than 2 500 kilometres of coastline, stretching from the cold waters off the arid West Coast region, southwards around the tip of Africa, and heading up again all the way to the lush St Lucia estuary in the east. […]

It's summertime in South Africa, and time to head for the beach. The country has more than 2 500 kilometres of coastline, stretching from the cold waters off the arid West Coast region, southwards around the tip of Africa, and heading up again all the way to the lush St Lucia estuary in the east.
Here's some insider info on South Africa's best beaches, to help you make the most of your time at the seaside.
West Coast
The West Coast is less crowded than most of the coastline in summer. It's not as lush as the other side of the country, and the water is pretty darn cold, but there are some major attractions.
The birding is great – particularly in places such as the West Coast National Park and the little-known Verlorenvlei near Elands Bay.
Watersports enthusiasts can kitesurf or windsurf or paddle in Langebaan, surf at Elands Bay or a dozen other great spots, and there are some fun horse rides.
The West Coast Fossil Park is a spectacularly rich source of fossils of prehistoric mammals, and it's a great place to spend half a day or so with the kids – or without them.
And if you like seafood, do lunch at Muisbosskerm near Elands Bay. It's a West Coast tradition.
This extremely casual establishment consists of a simple shelter right on the beach. You'll be served the freshest imaginable seafood cooked on an open fire and served with homemade bread. It's a shoes-and-shirts-optional kind of experience.
And there are some good wine farms around.
Cape Town
Cape Town has some of the best beaches in the world, but the water is also pretty chilly. Hang out on Clifton if you want to spot an A-list celebrity, go to Muizenberg if you want to learn to surf, see the penguins on Boulders Beach, or rub shoulders with the local bronzed wrinklies at Fish Hoek – possibly the most perfect of South Africa's beaches.
There is so much to do in Cape Town. Honestly. Be warned, though: you won't find parking anywhere near the beach, and you'll have to get up early to stake out a square metre of sand for yourself.
Cape Town is the city of choice for the brave of heart. Learn to dive, try sandboarding, paddle a kayak in the sea, hike through the Table Mountain National Park or do a tandem skydive with Table Mountain in the background.
Brave the summer wind and go kite surfing or windsurfing. Go wild. For something a little different, try riding a camel near Noordhoek Beach, take your kids to Butterfly World near Paarl where they can stand mesmerised by a living kaleidoscope of psychedelic wings flitting past their noses, or visit an ostrich farm to get close to these weird and wonderful birds.
Walking up Lions Head on a full moon evening, watching the sun set and the moon rise and walking down in the silvery light is so great, it's worth braving the crowds to do. You will not be alone. You won't be alone at the Kirstenbosch Sunday Concerts either, but it's also worth doing that. And don't forget the wine …
Southern Cape
Hermanus on the Southern Cape Coast, which is also called the Overstrand, expands to bursting point in December with wall-to-wall people, but some of the other smaller towns are not quite as crowded. Well, only just.
Gansbaai is the centre of the shark cage-diving industry so you could eyeball a great white. You could do a wine-tasting tour through some of the most southerly vineyards in the world, visit the southernmost point of Africa at Cape Agulhas, or explore the huge sea cave at Arniston.
While it is pretty crowded here, you'll still find some long, lovely beaches to walk on. Close to Cape Agulhas, in the small farming town of Bredasdorp, is South Africa's only dedicated shipwreck museum – attesting to the challenging waters around the southernmost tip of Africa.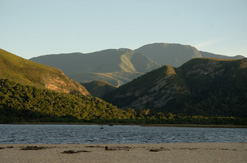 Garden Route
The Garden Route is heaven – tangled forests and deep river gorges fronting lovely long white beaches or craggy headlands. The southern right whales have gone back to Antarctica for the summer, but there are dolphins aplenty, and you may spot some humpbacks or even Brydes whales, either from shore or on a boat trip.
You could do an escorted hike along the coast, either on the beaches near Mossel Bay, through the wetlands between Wilderness and Knysna, or along the spectacular rocky coastline of the Tsitsikamma National Park.
If you're looking for more than sun, sand and sea, you could do a tree-top canopy tour, brave the highest bungy jump in the world, mountain bike or hike in the fabulous Harkerville Forest, abseil a waterfall into the mysterious Kaaimans River, take a gentle cruise or paddle up the beautiful, forest-fringed, cola-dark Keurbooms River, or explore the magnificent wetlands of the Wilderness National Park.
Wilderness has some of the best and most scenic paragliding in the country. There are more golf courses than you could shake a club at, and your credit card is likely to go into a hypoglycaemic coma with all the fabulous craft shops, art galleries and other tempting delights.
You can also watch some of the best polo in the world in Plettenberg Bay, but if you're thinking of staying there and you haven't booked your accommodation by now, you'll probably have to sleep in your car. And you can even get in a game-viewing fix.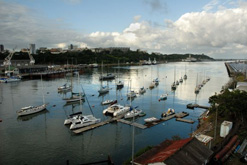 Eastern Cape
The Eastern Cape is the place for a real beach holiday. Port Elizabeth, East London, Jeffreys Bay, Cape St Francis and, to a lesser extent, Port Alfred are quite big centres but they still revolve around the beach.
Port Elizabeth is family-friendly, with a beach for every reason. If you head out to the wild side near Sardinia Bay, you can find an almost deserted stretch of sand to walk on – yes, even in December.
Close by you'll find fabulous malaria-free game viewing in the Greater Addo Elephant National Park and a range of smaller private game reserves, including Shamwari and Kwandwe.
Not far from Port Alfred is the fascinating little town of Bathurst, with a range of cultural and historical attractions. A bit further afield in Grahamstown you can explore interesting and unusual museums, including the National Institute for Aquatic Biodiversity, the National English Literary Museum, the International Library of African Music, and the Observatory Museum, which houses the only genuine Victorian camera obscura in the southern hemisphere. Best of all, it's another of those really quiet places, as all the students and scholars leave town for the holidays, and it's a quick drive to the beach at Port Alfred.
Jeffreys Bay is the surf centre of the universe – at least to the cool surfer dudes who hang out there. But if you're a really cool surfer dude, you should load your boards onto the roof of your battered kombi and head off to one of the secret breaks on the Wild Coast.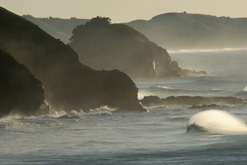 Wild Coast
No-one is really sure where the Wild Coast begins and ends, as it has – over the years – expanded almost to the outskirts of East London. The Wild Coast is magic. The climate and vegetation is subtropical, with mangrove forests, turquoise lagoons, long, deserted beaches and small scattered settlements where people live much the same way they have for centuries.
You can hike long or short sections of the coast while spending the night in a hotel or guest house, so you don't have to carry food and sleeping bags and tents and things along with you. Phew!
The Wild Coast is a great family holiday destination – some families have been visiting the same place year after year, for generations.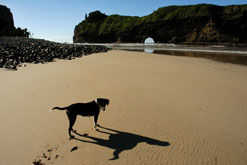 And almost every settlement has at least one vibey backpackers, too. Some of the best are in Cintsa and Coffee Bay. It's also a great cultural destination, as almost every hotel or backpackers along the coast has a good relationship with the people who live nearby.
For a really interesting cultural and genuine ecotourism experience, you can't beat Bulungula near Coffee Bay – and that's never crowded.
Be warned, though. Fabulous as it is, it is a real cultural adventure and, if your comfort zone is quite small with big, high walls you may suffer some culture shock.
South Coast
The Mtamvuna River marks the boundary between the Eastern Cape and KwaZulu-Natal, and things are very different on its northern bank. The South Coast consists of a string of beautiful beaches, river mouths and lagoons all fringed by an almost continuous ribbon of coastal development – hotels, malls, housing developments, camp sites and small towns.
It's not remotely peaceful but it is loads of fun. The beaches are long and lovely and mostly family-friendly, the diving is utterly superb, there are golf courses around every corner, and there is a range of accommodation to suit every budget.
Just inland is the Oribi Gorge Nature Reserve, where you can watch some small game or indulge in a range of adventures including white water rafting, abseiling and gorge swinging.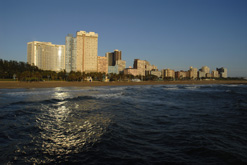 Durban
Jeffreys Bay is not the surf capital of South Africa. Durban is. The only surf museum in the country is here – on the beachfront – and the surf is great.
The beaches are a cultural experience. Bronzed surfers rub broad shoulders with elegant, sari-clad matrons strolling the sand, and bead-bedecked traditional healers collect sea water in plastic bottles while charismatic preachers perform al fresco baptisms, and small children build sand castles.
The city extends virtually to the high water mark and harassed, deskbound wage slaves shuck their jackets and ties at lunchtime to jog along the beachfront or catch a quick wave.
Durban is the easiest seaside destination to reach from Johannesburg. With all those Gautengers in town you'll be challenged to find a quiet spot on the beach in December, but you'll never be bored.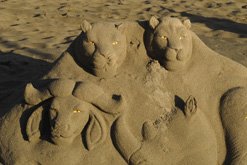 Toss a couple of notes to the sand sculptors who create fantastic ephemeral works of art on the beach, buy a basket from the craft sellers, and take a ride in a rickshaw.
To find out more about what lies under the warm Indian Ocean, visit the water rides and aquariums at uShaka Marine World, where you can – literally – swim with the fishes.
And before you leave, don't neglect to get a taste of bunny chow – a hollowed-out half-loaf of bread filled with spicy Indian curry, and Durban's signature contribution to world cuisine.
North Coast
The North Coast is rather like a more refined version of the South Coast. It's a bit more tropical, and maybe a bit wilder but the developers seem to have been a tad more restrained – or at least more discerning. Only a tad.
As well as awesome beach options, there is the KwaZulu-Natal Sharks Board in Umhlanga Rocks, where you can find out more about these fascinating, beautiful and much-maligned animals.
Numerous exclusive golf estates and resorts lie tucked away behind the dunes.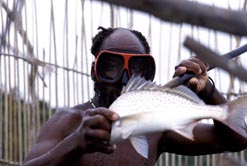 Maputaland
Most of the Maputaland coast is incorporated into the iSimangaliso Wetland Park, formerly the Greater St Lucia Wetland Park, which is a world heritage site.
This whole area is a paradise of sub-tropical beaches, fabulous wetlands, fascinating cultural destinations and spectacular game reserves, including the exclusive Phinda Private Game Reserve and the Hluhluwe-iMfolozi Game Reserve, where you will see more rhino than you can imagine.
There are interesting hikes, and you can paddle on the St Lucia estuary to check out the crocodiles, hippos and birds.
The fishing is good, and the small town of St Lucia seems to be overrun by fishermen with big four-wheel drives. The fishermen also hang out at Sodwana Bay, but there they're outnumbered by the divers who flock there in droves to explore Africa's most southerly coral reefs. It's pretty crowded, but it's worth it.
North of Sodwana it gets uncrowded indeed, where you can stay at one of two luxury lodges, either Thonga Beach Lodge or Rocktail Bay, and do some relaxed diving.
Alternatively, you will have had to book a long time ahead to get into one of the few more affordable KwaZulu-Natal Wildlife options.
For a truly fantastic and crowd-free experience you could head to the northernmost coastal resort in South Africa – Kosi Bay. It's a long estuary consisting of four interlinked lakes, each with its own character. Explore the traditional fish traps in shallow crystal clear water surrounded by mangroves, snorkel with colourful tropical fish in the estuary mouth, or paddle the deep cola-dark waters of the fourth lake to visit the most southerly naturally occurring raffia palm forest in Africa.
Do a short one-day or multi-day horse trail, or take a guided walk on the beach at night to look out for nesting turtles. KwaZulu-Natal Wildlife does trips, or enquire wherever you're staying. December is perfect turtle-watching time.
Last but not least
Wherever you choose to go on this beautiful coast, play it safe. Use loads of sunscreen and a hat, save your sundowners for sundown and don't drink and swim, and be realistic about your abilities. It's a big ocean out there.
But most important – have fun. Take all your toys – the frisbee, the beach bats, the picnic, the bucket and spade – and all your favourite people, and go back home a few years younger.
Source: www.mediaclubsouthafrica.com