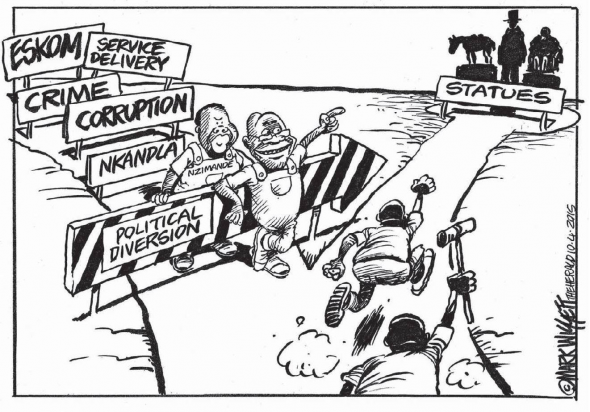 Videos: A Monument, Mugabe…and Monty Python
As Robert Mugabe announces during his two-day visit to South Africa that he doesn't want to see a "white face", and the Rhodes Statue is removed, an old Monty Python video is being shared on social media today… The Zimbabwean President made his remark yesterday after visiting the Hector Pietersen Memorial in Soweto. As he was being […]

As Robert Mugabe announces during his two-day visit to South Africa that he doesn't want to see a "white face", and the Rhodes Statue is removed, an old Monty Python video is being shared on social media today…
The Zimbabwean President made his remark yesterday after visiting the Hector Pietersen Memorial in Soweto. As he was being asked a question (about the emotions evoked by the Memorial), he apparently noticed a white journalist in the group and said "I don't want to see a white face". You can view it one-and-a-half minutes into the video below.
Mugabe's visit to the country was aimed at strengthening ties and bolstering trade between South Africa and Zimbabwe.
Watch Video: Mugabe's Visit to Soweto
Yesterday also marked the day that #RhodesMustFall became #RhodesHasFallen as the Cecil John Rhodes statue at the University of Cape Town was temporarily removed after a month of protests. (Mugabe told reporters that Zimbabwe will not be digging up the British colonist's grave – "we and my people feel we need to leave him down there," he said.)
Watch Video – Cecil John Rhodes Statue Removal
And so today some South Africans on social media are sharing this joke which appeared in The Herald: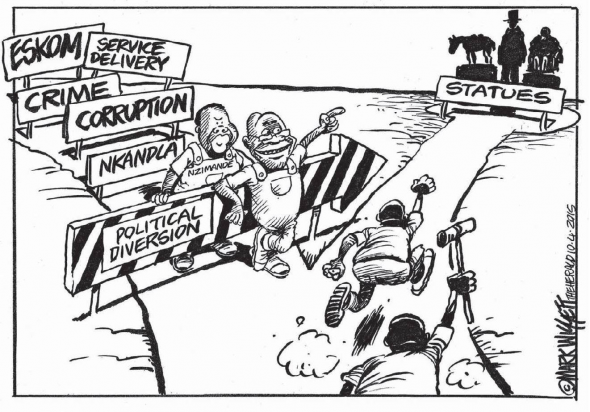 And posting this 'Life of Brian' sketch in which Monty Python actor John Cleese famously says "All right… all right…but apart from better sanitation and medicine and education and irrigation and public health and roads and a freshwater system and baths and public order…what have the Romans done for us?"
Watch Video – What Have the Romans Ever Done for Us? Life of Brian.