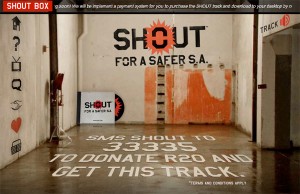 SHOUT for a Safer South Africa
It's time to SHOUT for a safer South Africa. Let YOUR voice be heard! SHOUT is a movement that hopes to encourage ALL South Africans who want to live in a safe country – and who currently feel frustrated, hopeless and powerless – to feel positive, and to see and believe that they can actively […]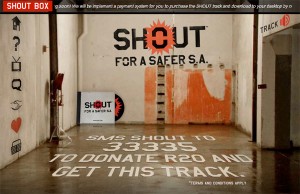 It's time to SHOUT for a safer South Africa. Let YOUR voice be heard! SHOUT is a movement that hopes to encourage ALL South Africans who want to live in a safe country – and who currently feel frustrated, hopeless and powerless – to feel positive, and to see and believe that they can actively engage in the building of a safer South Africa.
SHOUT is the brainchild of well-known South African musicians Danny K and Kabelo who launched the SHOUT initiative after the tragic and untimely death of South African music legend, Lucky Dube due to a senseless act of crime. Both Danny K and Kabelo had reached saturation point with the steadily climbing crime statistics and news bulletins detailing violence and bloodshed on a daily basis. Rather than simply whinge – or even worse, pretend that the crime's not that bad – they decided to do something constructive to fix the problem.
Danny used his influence as a successful and established South African artist to recruit the best of South Africa's music talent to record a cover of the 1980's Tears for Fears hit 'Shout', with the aim of donating all proceeds from downloads and sales of the single and brand collateral to charities which support victims of crime, and initiatives which aid in the prevention of crime in South Africa.
South Africa is deemed one of the most beautiful countries in the world with its unique wildlife, terrain and warmth attracting tourists and settlers. Over the years however, this incredible country "has been blighted by crime and violence all of which has been needlessly borne out of greed and anger", according to the SHOUT press release. SHOUT is a vehicle that is actively mobilising a peace revolution and giving South Africans a voice to stand up, to shout and to say enough.
In order to bring the SHOUT campaign to fruition, Danny and Kabelo have partnered with various organisations including Crime Line. Everyone involved in the SHOUT initiative has donated their services free of charge for the sake of the success of the SHOUT Campaign. Artists and celebrities that are part of SHOUT include The Parlotones, Lira, Steve Hofmeyer, Hugh Masekela, Louise Carver, Rebecca Malope, Gang of Instrumentals, Yvonne Chaka Chaka, The Soweto Gospel Choir, Jamali, Heinz Winkler, Kwela Tebza, Siphokazi, Ed Jordan, Jacques Terre'blanche, Bezwana and many more.
Here's how to start SHOUTING…
South Africans can join the SHOUT movement by simply downloading the song, adopting a new attitude towards law and order, knowing that they can be part of the solution, and that their personal actions are meaningful and will contribute towards a sustainable safer country
SHOUT is aiming to break all South African records by making the song the fastest selling single in South African music history whilst giving South Africa a unified voice to alleviate and combat crime.
By SHOUTING out together, we can actively create and build a safe South Africa.
Add your voice to the fight against crime. SMS SHOUT TO 3 33 35 to donate R20 and get the SHOUT track featuring SA's top artists (see terms and conditions on the site). Unfortunately this number is for those within South Africa only but SHOUT is working on options for overseas supporters – so please check their website (see below).
If there are dreams about a beautiful South Africa, there are also roads that lead to their goal. Two of these roads could be named Goodness and Forgiveness.
Nelson Mandela, Nobel Prize Winner, freedom fighter, peacemaker and former President of South Africa.
Visit the Website: http://www.shoutsa.com/ (and click to watch their very cool video)