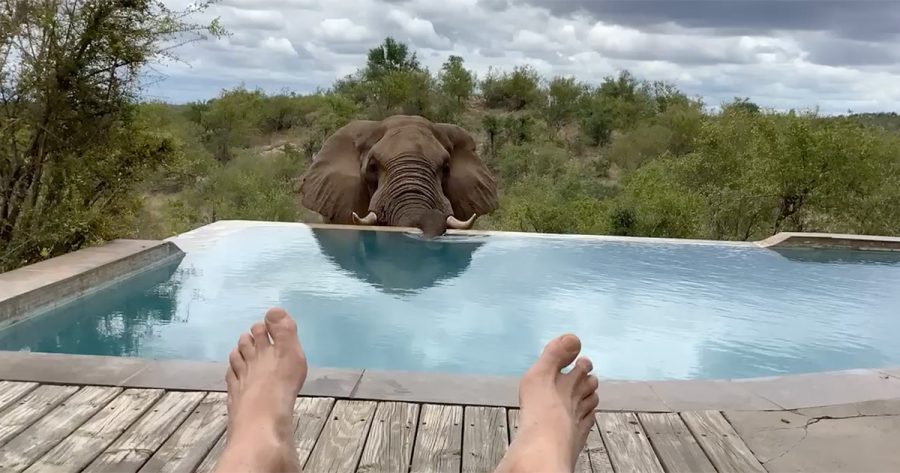 WATCH Wild Elephant Enjoys Swimming Pool Splash in South Africa
A wild elephant in the Greater Kruger, South Africa, joined a couple of Mbizi Lodge guests from Belgium at the lodge's swimming pool last week! "It was a magical experience," Wilfried Schildermans told SAPeople. He, and his wife, Linda Gevaerts stayed cool, calm and collected while the elephant enjoyed a pleasurable drink from the pool. […]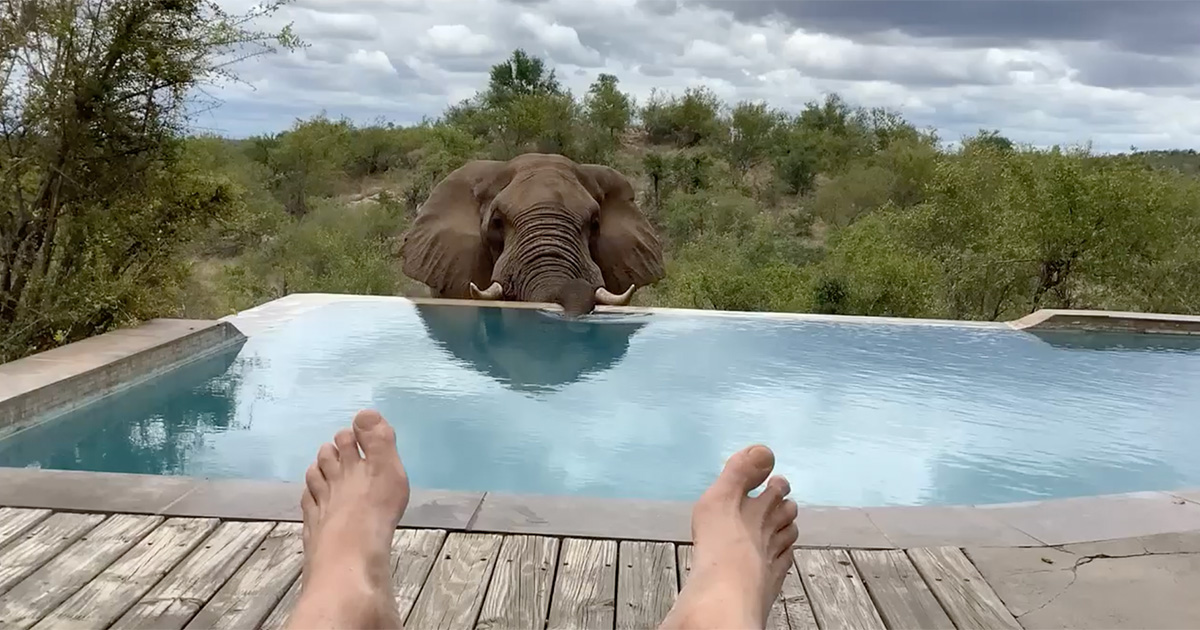 A wild elephant in the Greater Kruger, South Africa, joined a couple of Mbizi Lodge guests from Belgium at the lodge's swimming pool last week!
"It was a magical experience," Wilfried Schildermans told SAPeople. He, and his wife, Linda Gevaerts stayed cool, calm and collected while the elephant enjoyed a pleasurable drink from the pool. (The water isn't treated with chlorine, so is apparently safe for the thirsty elephants.)
Wilfried and Linda love South Africa so much, this is their 42nd visit to the country!
Linda says: "We love it, and have been coming here since 1991! Even during Covid, we came twice a year, but only in Kruger to be 'safe' ?"
This time around the couple spent 10 days in Marloth Park and Kruger, and are now staying in Somerset West "enjoying Cape temperatures. (In Belgium it was freezing – 15 C this weekend ?)."
WATCH Wild elephant joins tourist at swimming pool in South Africa
Linda will be back in January with her sister and mother (to celebrate her mom's 70th birthday), and then again in March with her hubby. Their dream is to hopefully spend 6 months a year in SA from 2026 when Wilfried's pension kicks in.
They'll be looking forward to more incredible experiences with South Africa's wonderful wildlife. For now, they wish all SAPeople readers happy seasonal greetings ????
WATCH ALSO: Wild Elephants Splash And Play By Lodge Pool
Paul Andrew Schofield, 34, at the Bukela Game lodge on the Amakhala Game Reserve, captured this footage last year of an elephant and its family at the swimming pool…