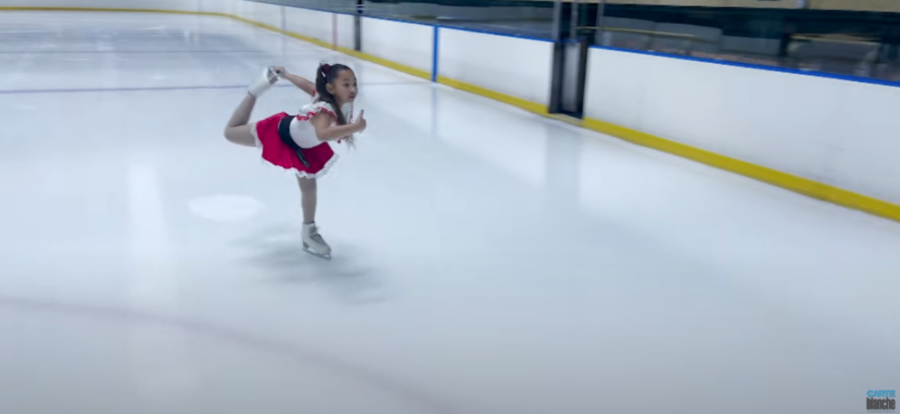 Ice-Skating Champ, 8, Living a Gangland Fairy Tale: Carte Blanche on Sunday
From gang-infested Bonteheuwel on the Cape Flats, South Africa, where drug wars and random killings limit the choices and futures of young people, comes a story of inspiration and beating overwhelming odds to realise a virtually impossible dream. At the age of eight, Tamika van As has become the 2021 Juvenile South African National Figure […]
From gang-infested Bonteheuwel on the Cape Flats, South Africa, where drug wars and random killings limit the choices and futures of young people, comes a story of inspiration and beating overwhelming odds to realise a virtually impossible dream.
At the age of eight, Tamika van As has become the 2021 Juvenile South African National Figure Skating Champion. Watch below.
This Sunday Carte Blanche tracks the origins of her dreams and development despite seemingly insurmountable challenges. Presenter Masa Kekana says:
"It was a heart-warming experience working on this story. It showed that, with the right interventions and support, no social challenges could ever hold this youngster back. Truly an inspiration for us all in these turbulent times."
As Kekana says: "Life in the heart of the Cape Flats is not easy for children, but when Tamika van As puts her feet on the ice, a whole different world opens up – one where gangs and violence don't exist."
Tamika says: "When I go on the ice and put (on) the make-up, I feel like a princess."
You can watch the show on Sunday 1 August in South Africa on DStv Now or stream it overseas in most countries from Tues 3 August if you're abroad.
There's no such thing as a normal childhood when growing up on the #CapeFlats. But little Tamika van As is not concerned as she spends her time #IceSkating with one vision: to become an #Olympic gold medallist. Share in her dream Sunday on #CarteBlanche #MNet101. @MasaKekana pic.twitter.com/UwvSKLfBg2

— Carte Blanche (@carteblanchetv) July 28, 2021
Watch the show overseas | Watch in SA on DStv Now
Also Coming Up on Carte Blanche this Sunday 1 August 2021
INVESTIGATE
In May, the independent civil society Global Initiative Against Transnational Organized Crime reported that capsulised heroin had transformed the illicit drug market in Durban – with deadly effect in the port city and beyond. Carte Blanche goes undercover in gang-riddled Wentworth where heroin capsules at rock-bottom prices have flooded the market and fuelled an all-out turf war in which competing dealers take out the opposition in ruthless drive-by shootings. As a community is left crippled and at the mercy of violent gangs, we investigate what's really inside the pills that have taken an addiction-devastated community's fight for survival to new depths. (Producer: Nicky Troll | Presenter: Macfarlane Moleli)
Watch the show overseas | Watch in SA on DStv Now
Declared commercially insolvent by the Auditor General in March, and with a multibillion-rand government bail-out three years ago, the story of the South African Post Office is one of inefficiency, mismanagement and overspending. But with a presence in nearly every town, and one of the oldest state-owned enterprises in the country, is the Post Office an obsolete relic from a bygone era, or a strategically-placed giant set to cash in on lucrative e-commerce deals as the Fourth Industrial Revolution demands a radical overhaul of communication and delivery? Carte Blanche sits down for a one-on-one with the newly-appointed CEO Nomkhita Mona.
Presenter Derek Watts says: "It's difficult to argue with the SA Post Office trying to bring the SOE into the 21st Century with bold changes. But financial woes, a shocking reputation and union intervention ARE making it difficult to foresee the new Group CEO successfully implementing her grand schemes."
Long accused of inefficiency and being a relic from a bygone era, a new CEO at the South African #PostOffice says she has big plans to improve the services. But do you think she can she deliver?
Join @DerekWatts this Sunday at 7pm on #CarteBlanche on #MNet101. #SAPO pic.twitter.com/2lO9xId1CY

— Carte Blanche (@carteblanchetv) July 29, 2021
The importance of the agricultural sector cannot be over-estimated in the South African economy as it contributes to household food security and employment. Experts stress the need for comprehensive farmer support and innovative financing solutions without which both upcoming and established farmers would find it hard to survive the calamitous extended drought that's now gripped the country for close on a decade. Carte Blanche investigates how farmers in the Bultfontein District in the Free State have been brought to their knees by the drought, without state support and faced with seemingly unsympathetic financial institutions. Several farmers have already lost the battle and have been sequestrated and others, in desperation, are falling prey to dubious money lenders bent on scamming them out of their last remaining funds. (Producer: Eugene Botha | Presenter: Macfarlane Moleli)
Watch the show overseas | Watch in SA on DStv Now
They were nearly wiped out by a nine-year #drought that depleted their reserves. Now, some farmers in the #FreeState are fighting off vultures gunning for their land and making life a misery. That's #CarteBlanche this Sunday 7pm on @MNet channel 101. pic.twitter.com/TaVpueynSv

— Carte Blanche (@carteblanchetv) July 28, 2021
If you're in SA – you can watch Carte Blanche on DStv Now.
If you're overseas – you can watch #CarteBlanche from Tuesdays, and thousands of other popular local South African shows & movies by subscribing to Showmax International now. You can try it FREE for 14 days. 
Carte Blanche is on M-Net & M-Net HD [101], 1 August 2021 at 19:00 & again on M-Net Plus 1 [901] at 20:00
***
Please note: Carte Blanche is only available to international Showmax subscribers in Andorra, Australia, Austria, Belgium, Denmark, Finland, France, Germany, Greece, Iceland, Indonesia, Ireland, Italy, Liechtenstein, Luxembourg, Malta, Monaco, Netherlands, New Zealand, Norway, Portugal, San Marino, Spain, Sweden, Switzerland, United Kingdom. Not all titles are available in all territories. Showmax brings you the best South African series and movies, from the classics to the latest releases, from complete box sets to kids' favourites.