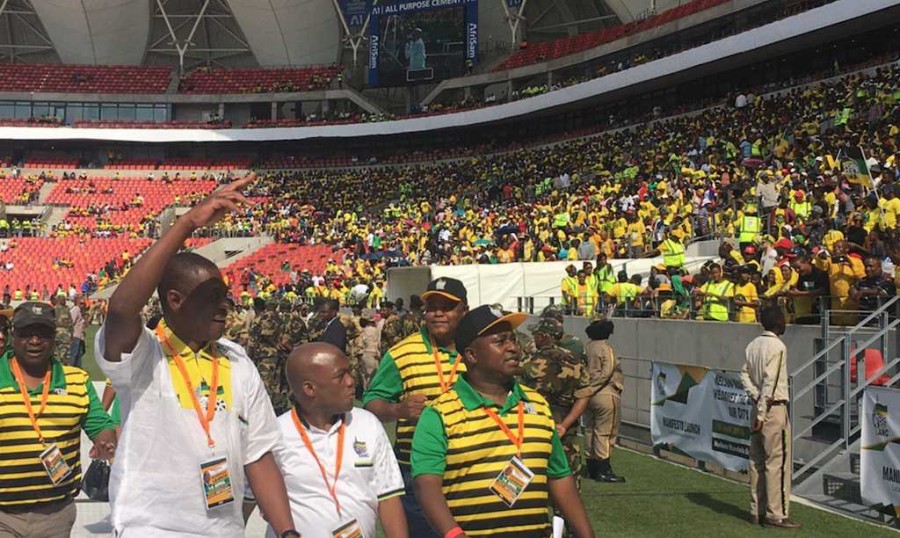 Empty Seats and Big Promises at ANC Manifesto Launch
As the African National Congress launched its manifesto for the local government election at a much ballyhooed event at Port Elizabeth's stadium on Saturday, much of the conversation on social media was about the less-than-stellar turnout (either due to the hot weather or a cold reception from disenchanted voters) and President Jacob Zuma's dance moves. The Nelson Mandela […]
As the African National Congress launched its manifesto for the local government election at a much ballyhooed event at Port Elizabeth's stadium on Saturday, much of the conversation on social media was about the less-than-stellar turnout (either due to the hot weather or a cold reception from disenchanted voters) and President Jacob Zuma's dance moves.
The Nelson Mandela Bay Stadium has a capacity of 46,000, and although the ANC claimed 42,000 had entered, the pictures seem to show otherwise. In his speech Zuma reportedly promised the ANC would focus on providing improved basic services by better municipalities and holding ANC councillors accountable. He also made a promise of extending free wi-fi, although it wasn't clear who would get it, and alleviate joblessness.
The tweets and remarks on social media focused on these promises and other things. We picked some of the best:
"..a vote for the ANC is a vote for the constitution" -President Jacob Zuma ? did I hear him correctly? #ANCmanifesto

— Thole loMthwakazi (@MsAphelele) April 16, 2016
#Zuma: Local government is in your hands. Vote ANC on 3rd August 2016. Together, we shall build better communities. pic.twitter.com/TOBTsM3HGB

— DemocracyInterruptus (@DroppedChance) April 16, 2016
#ANCmanifesto #ANCManifestoLaunch pic.twitter.com/LEEHmm4u47

— Lwazistos (@Lwazistos) April 16, 2016
#Zuma like Moses reading 10 Commandments. One was a Prophet & the other is chasing profits! #ANCmanifesto @RanjeniM @QaanitahHunter

— edris hlongwane (@edrishlongwane) April 16, 2016
It's just passed 13h00, despite the programme being way behind schedule, entertainment is being dished out. #ANC pic.twitter.com/Va7hiexA2S

— Xoli Mngambi (@XoliMngambi) April 16, 2016
When People vote for ANC then Wait for Change #ANCmanifesto pic.twitter.com/x5F0aQ2nXU

— Vibe Guy (@OtisMac_) April 16, 2016
Politicians are like girls, they only act nice or do something when they want something in return #ANCmanifesto #rkillahsa #EFFMahlanguRally

— R-killah SA (@Rkillah_SA) April 16, 2016
Much, stealing, lying and ignoring the constitution and chapter 9 institutions #ANCmanifesto https://t.co/vBMSm797WF

— justice (@justicebigM) April 16, 2016
And, of course, the Zuma jokes keep coming, ranging from a comparison with Canadian Prime Minister Justin Trudeau explaining quantum computing (click on the link under @chrisvond) to a Zuma truck parking in a handicapped parking bay.
Things #Zuma will never be able to do https://t.co/WOechqav2b

— Christian (@chrisvond) April 16, 2016
Disabled Bay. How ironic. #Zuma#ANCpic.twitter.com/9r5NVFYUEh

— StressKitten (@StressKitten) April 15, 2016
And talking of trucks…