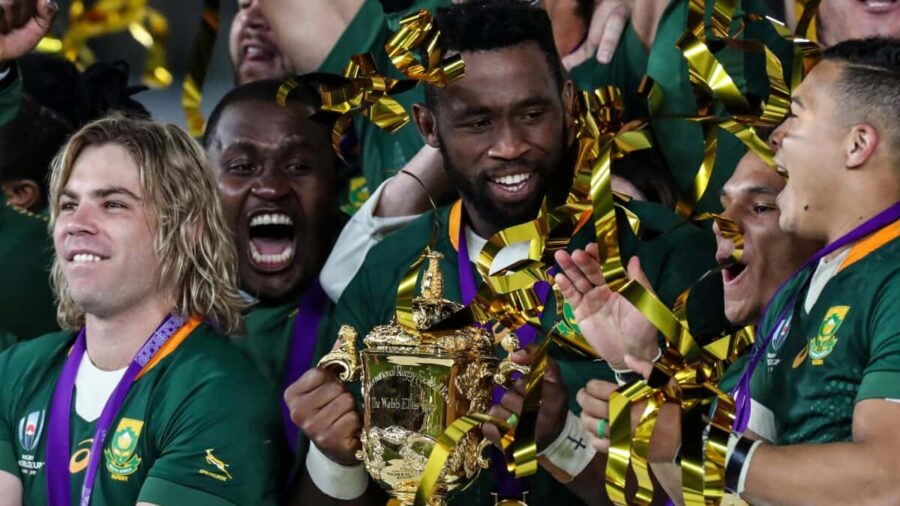 Springbok boss celebrates 100 days to go to RWC 2023 with World Rugby
The countdown to Rugby World Cup 2023 has officially started, meaning the Springboks have had to hand-over the trophy. Springbok coach Jacques Nienaber was included in World Rugby's celebrations to mark the 100-day countdown to the start of Rugby World Cup 2023. With a little under three months to go until the best players on the planet arrive […]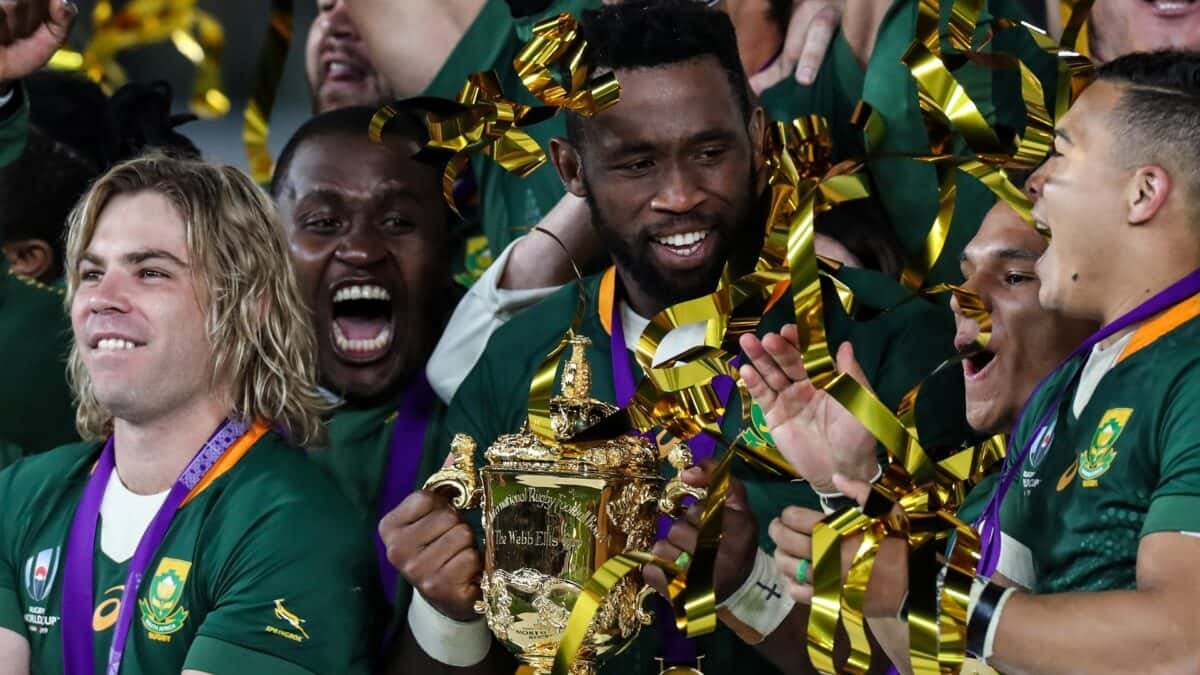 The countdown to Rugby World Cup 2023 has officially started, meaning the Springboks have had to hand-over the trophy.
Springbok coach Jacques Nienaber was included in World Rugby's celebrations to mark the 100-day countdown to the start of Rugby World Cup 2023.
With a little under three months to go until the best players on the planet arrive in France, final preparations are underway this Wednesday for rugby's 200th birthday party, which promises to showcase the sport's power to bring people and communities together.
The Webb Ellis Cup arrived in Paris on Tuesday evening with bespoke Rugby World Cup 2023 livery and will pass from world champions South Africa to hosts France, a symbol that the countdown is truly underway.
SPRINGBOK BOSS CAN'T WAIT FOR RWC 2023
Nienaber says he can hardly believe that four years have passed since the previous tournament, but added that he is looking forward to RWC 2023.
"The last four years have passed by at a rapid pace and it is almost surreal that we are 100 days out from Rugby World Cup 2023 in France.

"Given the meticulous planning by the organisers and the fantastic stadiums and facilities in the host cities, we believe it will be a memorable Rugby World Cup for the participating teams and fans attending the event.

"The competition among the top sides in the world is intense, and we know that we need to be at our best in each match to be in contention to defend the title."
EXCITEMENT IS BUILDING UP AS RWC LOOMS
Attention has since turned to activities across the 10 host cities that will culminate in a spectacular light show set to transform the Arc de Triomphe in Paris.
Meanwhile, the tournament medals will be unveiled on Wednesday morning.
They are cast entirely from recycled mobile phones donated by fans and community rugby clubs, reflecting the unique connection which will be enjoyed by players and fans in France and the tournament. They also reflect rugby's commitment towards future environmental sustainability.
Tournament organisers have also revealed new public survey results – a BVA survey undertaken with 1,500 French national representatives between March 20 and 27 – that point to the most popular and impactful Rugby World Cup ever as rugby fever takes hold:
90 per cent of the French people support the nation's hosting of Rugby World Cup with 76 per cent set to join the celebrations either in stadia, in host city fan villages or via media and broadcast;
More than 600,000 international visitors are expected to join the celebrations in France, a record for a Rugby World Cup;
Tickets sold in record time with all available tickets sold a year out and France 2023 is on set to break the RWC 2015 attendance record;
72 per cent of ticket holders will attend with family, and 45 per cent with friends, underscoring the celebration of togetherness.
ALSO READ: Springbok scrumhalves — SIX to play for three spots
Meanwhile, Rugby World Cup 2023's host cities have started unveiling exciting rugby villages, celebration areas in the heart of each city, where fans from France and around the world can experience Rugby World Cup 2023 together.
Hosting up to 40,000 people, the rugby villages will be open to all with free admission, offering a unique programme of activities, including live coverage of Rugby World Cup 2023 matches, live music, food and beverage, rugby activities, cultural events and children's zones. Hosts will announce their complete schedules in the coming weeks.
Rugby World Cup 2023 aims to be a positive-impact competition, setting new standards in social responsibility, inclusion and sustainable development for major international rugby events.
Beyond pledges, France 2023 has delivered tangible projects, including the apprentice programme Campus 2023, its official charity Rugby au Coeur and the XV of Gastronomy, who will design menus based on seasonal, local products.
ALSO READ: Go inside the mind of the Springbok boss
WORLD RUGBY STATEMENT
"With 100 days to go, we are confident that Rugby World Cup 2023 is excellently placed to be the greatest celebration of rugby and togetherness, a fitting way to mark 200 years of rugby," said World Rugby chairman Bill Beaumont.

"Across the 10 host cities and around the world, excitement is at fever pitch. From ticket sales to international visitors, records are tumbling and there is a genuine air of expectation as to which nation will ultimately lift the biggest prize in men's rugby, the Webb Ellis Cup. I can't wait."
French organisers are also confident that they can produce the most popular edition in the tournament's history.
"In 100 days, it will finally be time. Starting from the opening match between France and New Zealand, this Rugby World Cup 2023 promises incredible excitement, shared by French and international fans across our country and its regions. Driven by a strong social mission, this competition is set to be a nationwide celebration."
SPRINGBOK COACH AMONG OTHERS TO CELEBRATE 100-DAY MARK