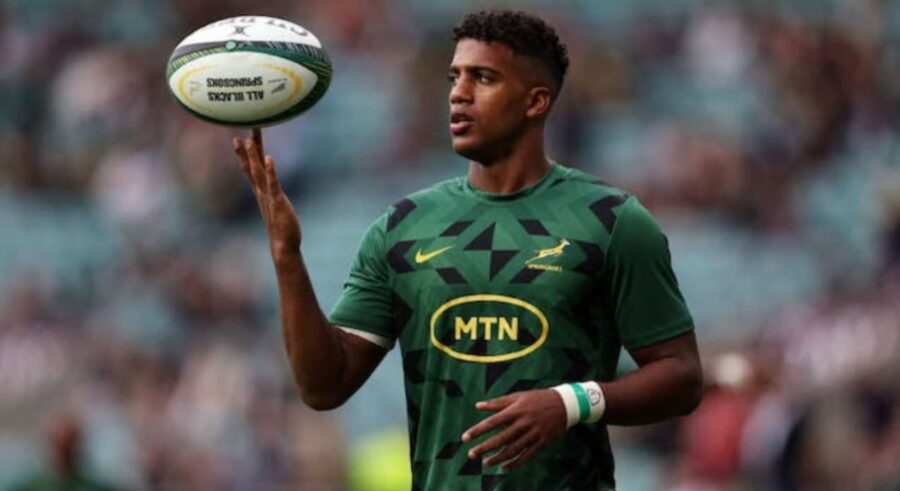 Rugby World Cup 2023: Africa's hopes lie with South Africa and Namibia, for now
South Africa eyes a fourth title while Namibia aims to win its first world cup match. Rugby shows huge potential for growth in Africa.
Two African teams have made it through to the 20 countries playing across four pools in the final stages of the 2023 men's Rugby World Cup: three-time champions South Africa (ranked 2nd in the world) and underdogs Namibia (ranked 21st). What are their chances and what is the state of rugby union in Africa? We asked rugby expert and coach Wilbur Kraak some burning questions.
What shape is South Africa in – can they win?
South Africa can do well for a few reasons. Key members of the coaching and support team, who helped South Africa win in the last World Cup, in 2019, are still there. And they've added new talent like Deon Davids for fresh ideas. They have lots of good players in different positions, so can make strong teams no matter who they choose. There are both experienced players and young talents, like Canan Moodie, Grant Williams and Kurt-Lee Arendse. Some of the players can play different positions, which is handy. It's a team that does well when it has momentum, especially in areas like collisions and kicking. And leaders like team captain Siya Kolisi are important, particularly in tough games.
But we need to remember a few things. South Africa's players are older now, so they need good rest between matches. They're in a demanding pool – including Ireland (ranked 1st in the world) and Scotland (5th). They should rotate the team in games against lower-ranked sides like Romania and Tonga. All-rounder Manie Libbok's skill in kicking goals is crucial. And the team must stay disciplined on the field and adjust to how referees interpret the laws. If these things are kept in mind then South Africa has a good chance of winning.
How do you rate Namibia?
Namibia's goal is different from South Africa's. I believe their main aim is to secure their first-ever win in the World Cup final stages, and it seems they might be targeting Uruguay for that opportunity. Namibia face a unique challenge because they're in a difficult pool that includes hosts France and New Zealand (ranked 3rd and 4th in the world).
One common issue for second tier nations like Namibia is they don't get enough chances to play highly competitive rugby. However, they recently had a tour of South America, which should help them prepare. To progress as a rugby nation, Namibia needs to focus on playing more competitive international matches, improving its club system, and ensuring consistency in player selections.
An advantage in this campaign is having two coaches, Allister Coetzee (part of South Africa's 2007 World Cup-winning team) and Matthew Proudfoot (who contributed to South Africa's 2019 success). Their experience will undoubtedly be a benefit.
What's the state of the game in Africa?
The state of rugby in Africa is complex but promising. Africa is often referred to as rugby's "sleeping giant" because of its vast potential. But there are several challenges that need to be addressed to fully harness this potential.
First and foremost, rugby in Africa requires substantial resources. This includes long-term funding to invest in grassroots development, improve facilities, and establish player development structures and coach-education programmes. Many African nations face financial constraints that limit such investment and will not be able to reach their potential.
While countries like Kenya have demonstrated their prowess in rugby sevens (a shorter version format with seven players a side), there's room for growth in rugby union (the longer, traditional format with 15 players a side). Plus, improving the quality and representation of women's rugby is an imperative for the whole continent. Through focused efforts and investment, African nations can rise to prominence in both formats and contribute to the global growth of rugby.
Another significant challenge is the limited number of qualified teams that can participate in major international tournaments, often because of fewer player numbers than international powerhouses. So only a few African teams stand a chance to qualify – like Zimbabwe (ranked 31st), Kenya (33rd), Uganda (42nd) and Senegal (56th), which were among the teams trying to reach the 2023 World Cup final stage. This can be frustrating, given the continent's passion for the sport.
However, what's encouraging is the willingness to learn and improve. Many African nations like Kenya, Zambia, Namibia and Uganda are eager to enhance their rugby programmes and competitive abilities. They're open to partnerships, collaborations, and knowledge-sharing opportunities with more established rugby nations.
With the right investments and support, we may see more African teams making their mark on the international stage.
What factors will shape this year's tournament?
The introduction of the bunker system (a dedicated space next to the field for television match officials) adds an intriguing dynamic. The use of technology is expected to have a significant impact on match outcomes and potentially ignite spirited debates.
Squad depth becomes pivotal, given the inevitability of injuries during the campaign. Teams with strong reserves and the ability to rotate players effectively have a distinct advantage.
Effective team leadership – from inspirational captains and experienced players making critical on-field decisions – will wield considerable influence. The ability to rebound swiftly from disappointments, losses or setbacks demonstrates a team's resilience, underpinned by mental toughness and unwavering focus.
And then, expectations are building for a shift in the scoring dynamics. This year's tournament may witness an increase in points, driven by improved attacking strategies, creativity and a willingness to take calculated risks. This promises more thrilling matches.
ALSO READ: How you can watch the Springboks at the 2023 Rugby World Cup
What does it take to be world champions?
While there are numerous factors that contribute to the success of championship rugby teams, I believe that five key elements stand out as vital. These are physical preparation; effective recovery strategies and player management; strong team cohesion; coaching tactics and strategies; and having X-factor players who can create opportunities out of seemingly nothing.
Wilbur Kraak, Professor, Department of Sport, Recreation and Exercise Science, University of the Western Cape
This article is republished from The Conversation under a Creative Commons license. Read the original article.