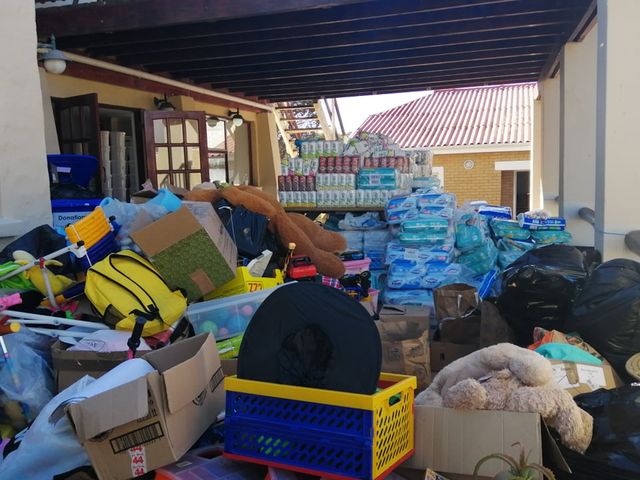 Cape Town Clears Its Cupboards to Feed 5,000 After Massive Masi Fire
Following the recent massive fire that destroyed over 1,000 homes in Masiphumelele and led to the City of Cape Town declaring it a local disaster, the government has called on the public to assist where they can. Here's a first hand account from volunteer Lynn Duddy… When you arrive it is a bit overwhelming, like […]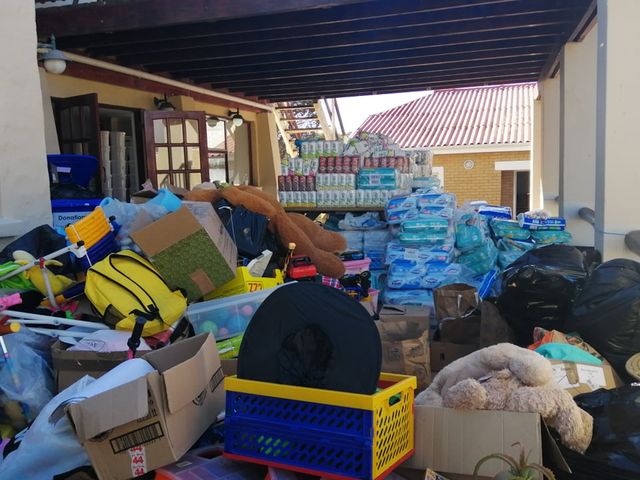 Following the recent massive fire that destroyed over 1,000 homes in Masiphumelele and led to the City of Cape Town declaring it a local disaster, the government has called on the public to assist where they can. Here's a first hand account from volunteer Lynn Duddy…
When you arrive it is a bit overwhelming, like being the last in class on your first day at school and everyone has already got the brief and knows what to do, and the teacher looks really busy and you don't really want to disturb her.
But you do.
"Hi, I'm here to volunteer what do you need done."
She surveys the area and we both take in the magnitude and scale of donations and my question seems quite silly much like asking where to put the plaster on the chopped off leg.
Yet there is order to the chaos and she starts pointing out piles that need to be sorted.
"OK, all the curtains, blankets, suitcases, bedding need to go around the garage so that it can be loaded into the container that should be here any minute, all this stuff (she points to furniture and other oddments) – furniture over the fence into the play area and then baby stuff on the balcony, clothes over there and we need all this (she points to piles and piles of sarmies) needs to be loaded into a bakkie for delivery into Masi to the various feeding points. Any toiletries need to go inside as they are making care buckets."
It looks like Cape Town has cleared out its cupboards and garages
It looks like Cape Town has cleared out its cupboards and garages. Seriously, there is so much stuff.
But there are also 5000 people who have lost everything.
I pick up the crates loaded with sarmies and start loading the bakkie, inside and out and once its ready Sibu is coming with to show me where to go.
Masi on any given Saturday is a chaotic carnival of smells and sounds and traffic and people and commerce.  The further in we drive the more signs of the fire you can see, folks carrying large bags and TV's clutching small children moving slowly.
"Where are they all sleeping?" I ask Sibu. "Anywhere they can find a space, maybe with someone from a village they are from in Eastern Cape."
I'm wondering how 5,000 people who could not even fit into the space that has burnt down are now fitting into even tinier spaces, it's almost biblical, like the loaves and fishes.
it's almost biblical, like the loaves and fishes.
We are now quite deep in and the smell of the fire is heavy, large trucks are racing past stacked with the burnt-out remainders of peoples lives, teams of guys are carrying burnt out corrugated sheets that honestly look like they should be dumped but according to Sibu they will be used for the walls, and IF (big IF) the City issues starter packs which for overseas folks, is some metal sheets, timber and nails which is to help you rebuild after your shack has burnt down. There are enough township fires for this to be a thing, except COVID and now there is no budget left for Disaster Management and coupled with theft from Covid funds there isn't money left for these residents who are relying solely on this and don't know if it's happening yet.
Strong police presence and Red Ants to prevent land invasions
There is a very strong police presence and a Unimog of Red Ants which is to prevent land invasions because trying to stake out your space after your shack has burnt is critical – there are hundreds who will snake your space and while the ground is still burning you will see people waiting anxiously to secure their place so they can rebuild and not lose their spot.
The roads are super narrow no pavements, cars double-parked children running in and out of traffic and Taxis screaming down roads where you throw your hands up and close your eyes because you are convinced they are going to smash your car, but they don't, they know their space down to a hair's breadth, it's impressive and terrifying at the same time.
The road in front of us has been closed and there are Metro Cops everywhere,  our connection to meet us at the first place wasn't there so we are heading to the next drop off. As I round the corner there are guys with arms around girlfriends and hands cradling quarts, the Shebeens are pumping music and braai grids are everywhere covered in chicken feet, small spaces house salons and wriggling kids are having their hair braided while guys are getting slick hair shaved designs – as I said, its a crazy carnival.
hundreds of little barefoot people clutching their protein drink and a piece of bread
I'm waved down the closed roads the cops moved aside for us and I'm still wondering where we are dropping when Sibu quickly waves me over as I see a very long snake of humans 5 deep all waiting. I pull over into a drain and as I get out I can see its raw sewerage and other rubbish. It's hard to describe but down an alley we hop and skip carrying the crates of sarmies, loads of greetings are yelled to me, there are hundreds of little barefoot people clutching their protein drink and a piece of bread, one child is sipping from a tap attached to the side of a container, barefoot ashen dirty men carrying more twisted pieces of metal they have salvaged, it is beyond description because on any normal day… this is normal. There are 6 Community Mama's who have taken it upon themselves to dish out the food, one is breastfeeding a baby but both her hands are taking bags of food from me while she is issuing instructions and telling off a guy for trying to jump the Queue.
one is breastfeeding a baby but both her hands are taking bags of food from me while she is issuing instructions
They sit there unflinching yet fluid in their task, speaking to each one, pushing back the crowd (who all know and wait patiently) handing out a carton of cultured milk and a pack of bread that's been made into sarmies.  Looking down the alleyway is just a stream of people and children and dogs and garbage, jumping over open drains everyone navigates up and down. Trains of people moving things.
And across the road the party continues, the heads are braided, the beers are drunk, the taxis are flying, couples are strolling hand in hand laughing no sign of the disaster on the other side of the road.
I just could not get my head around this polar existence within this traumatic environment.  Let alone the polar opposite world that exists outside this township.  It is beyond tragic. That people are so desperate for housing they will build their houses in the spaces that are to be left open for fire trucks, knowing what fate potentially awaits them and their children.
I ended the day packing care buckets of toiletries. A toothbrush, toothpaste, deodorant, toilet roll, razor, face cloths, pack of sanity pads, soap, washing powder, hand sanitizer, mask, shampoo. These are being handed out tomorrow.
And 5000 people will need to be fed again.
By Lynn Duddy, republished with kind permission from her blog Grinleer.
Urgent Donations and Volunteers Needed
Please contact Living Hope who is coordinating the relief efforts: 082 465 9067.
Essential items that are requested include blankets, baby food, nappies, baby milk and non-perishable food.
Lynn says at the weekend they ran out of deodorant, toothpaste, shampoo and small vaselines for the care buckets.
"They also need volunteers so if folks don't have cash or items, their time will be greatly appreciated," says Lynn.