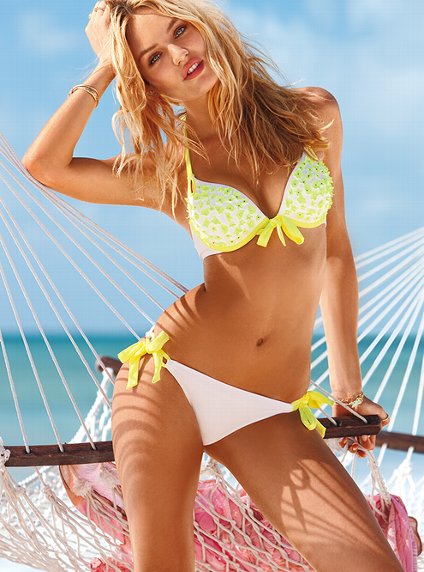 Hot South African model Candice Swanepoel has beaten out her fellow Victoria's Secret Angels to appear on the cover of the company's 2012 Swim catalogue.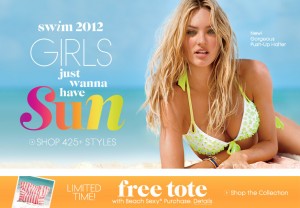 The theme for the catalogue is a perfect fit for Candice. With a nod to Cindi Lauper's 80's anthem, Girls Just Wanna Have Fun, the 2012 catalogue is called "Girls Just Wanna Have Sun"…and that's exactly what Candice loves.
On her website, the 23-year-old South African admits that "despite the high-profile life I lead, I'm still happiest and most comfortable hiding away on a beach with a good pair of sunglasses, soft sand and some Reggae music".
And just last week she posted a photo of herself with Namibian model Behati Prinsloo – whom she refers to as "my homie" – with the caption "Beautiful day in Miami! So happy in the sun!" (scroll down to see the pic).
Candice also sizzles in a short video promoting the Swim Catalogue – VIEW VIDEO HERE (and more stunning pics below):
httpvh://www.youtube.com/watch?v=g6zGSb8WZJw