The Daily Show in the United States has a new stepdad after Jon Stewart, "and he's black." That's how Trevor Noah introduced his first show to shouting and applause, adding that he was going to "continue the war on bullish*t".
Watch the video of Trevor Noah's first show
Trevor lost no time on the satirical news show going immediately into the events of the week, the Pope's visit to the United States, the stepping down of the Speaker of Congress John Boehner and the Mets baseball team making the playoffs.
"I don't know what that is," he said to the audience cheering, "but Jon told me that would work."
Trevor also mentioned that growing up on the dusty streets of South Africa he never dreamed that he'd one day be the host of the The Daily Show…or have an indoor toilet!
Taking over a nighttime talk show like the Daily Show is notoriously difficult in America, where audiences are loath to accept a new host and often compare him or her to the old one, especially a 16-year beloved veteran like Jon Stewart.
While CNN Money said he had a smooth start, the huge-selling USA Today called it 'A not-so-great 'Daily Show". Maybe Trevor would one day own the show, the reviewer said, "But not just yet.'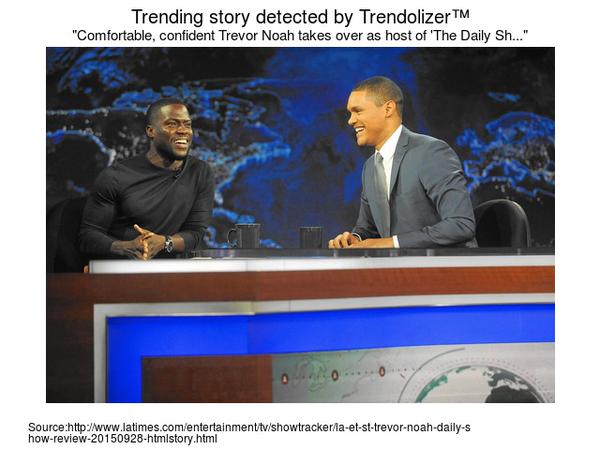 Trevor praised Stewart and also made fun of himself being in the hot seat. While discussing the retirement of of Boehner from Congress, Trevor joked – while playing on people's memories of his own predecessor on the Daily Show and the pressure on him now to meet Jon Stewart's high standards – that you could already hear people shouting, "John/Jon, please come back, please come back."
"Maybe he'll surprise people and just crush it," replied political correspondent Jordan Klepper.
In an unusual move to beef up audiences, the show was simulcast across several of the networks owned by Viacom, which owns Comedy Central, including MTV, VH1, BET and Nick at Nite.
South Africans can watch Noah's 1st episode as host of the Daily Show on Comedy Central at 9pm this evening (Tuesday 29 September 2015).
And the feedback from Tweeters…
The feedback on Twitter has been largely positive, with many South Africans congratulating Trevor for "doing us proud" and "nailing it". One said "who would have thought our proudest moment would be an export". And Eskom pitched in with "Eskom's risk of load shedding today remains low, extending #TrevorDay to today and #PoweringYourWorld."
New York astrophysicist Neil deGrasse Tyson tweeted one of the most popular messages: "Congratulations to @TrevorNoah tonight. @TheDailyShow's new opening credits now show Earth rotating in the correct direction."
MORE
Go For It Trevor! You Have the Whole of South Africa Behind You!