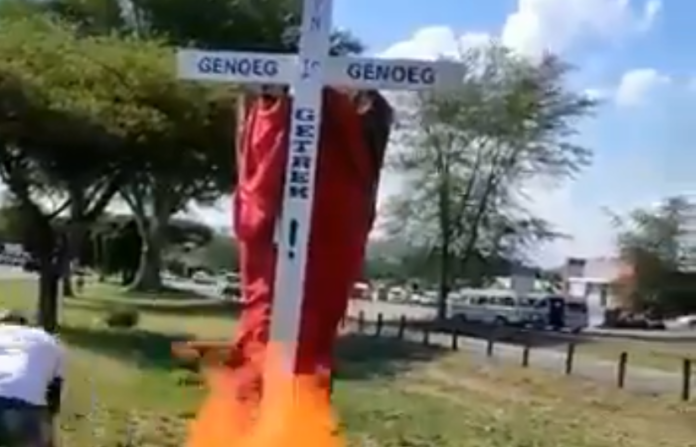 The Democratic Alliance in North West has condemned in the strongest terms the burning of a cross highlighting the plight of farm attacks and murders in Brits, allegedly by Madibeng FM journalist Nick Motloung to promote his radio show.
The behaviour by Motloung was completely unnecessary, said Jacqueline Theologo MPL, DA North West Spokesperson on Agriculture and Rural Development, "especially in light of the constant onslaught farmers and farmer workers face daily in North West and South Africa. His explanation that these crosses cause hatred is unfounded.
A charge of arson has reportedly been laid against Motloung by someone in the community.
"Journalists are supposed to report the news and not create or become the news," said Theologo. "This behaviour goes against all journalistic ethics. Nick Motloung used the video of the burning of the cross on his Facebook Page for marketing his Drive Talkshow (see picture here). It is in terribly bad taste.
The DA said these crosses were erected to draw attention to the plight of farmers and farm workers all over South Africa. It was a call for government to recognise the scourge of brutal violence rural communities were subjected to and for government to act to ensure the safety and security of farmers and farm workers. The crosses also served as memorials for all farmers and farm workers who lost their lives in their efforts to put food on the tables of South Africans.
"The farming communities in and around Brits and Hartbeespoort have been subjected to an onslaught of brutal farm attacks over the last couple of months that saw both farmers and farm workers shot and assaulted.
"Many memorial crosses dot the landscape throughout South Africa, especially along our roads and highways where people have lost their lives in car crashes. No compassionate South African would dare to vandalise these structures.
"It is unacceptable that crosses honouring the victims of farm attacks are now being burned. The burning of crosses, or any religious symbol for that matter, seeks only to cause violence. There is no place for this behaviour in South Africa.
The DA adopted a resolution calling for the recognition of farm attacks as a priority hate crime at its Federal Congress this weekend, with 97 percent of all delegates supporting the resolution.