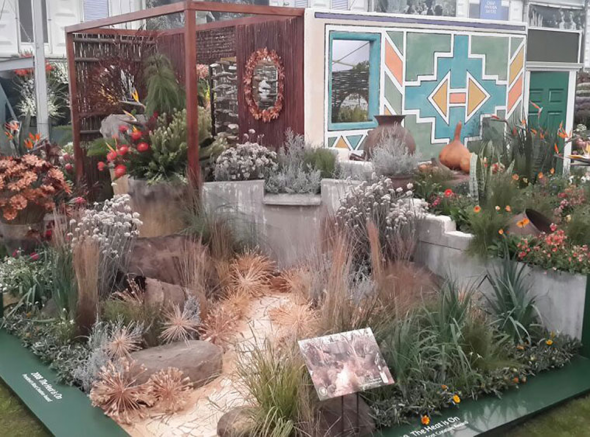 South Africa Wins Silver at Famous Flower Show…with a Little Global Ubuntu
Against all odds, the South African National Biodiversity Institute (SANBI-Kirstenbosch) was yesterday awarded a Silver Gilt at the Chelsea Flower Show for what is its 40th exhibit at the famous Royal Horticultural Society show!  Congratulations to designers David Davidson and Ray Hudson and the team of SANBI staff and volunteers who worked tirelessly to achieve […]

Against all odds, the South African National Biodiversity Institute (SANBI-Kirstenbosch) was yesterday awarded a Silver Gilt at the Chelsea Flower Show for what is its 40th exhibit at the famous Royal Horticultural Society show!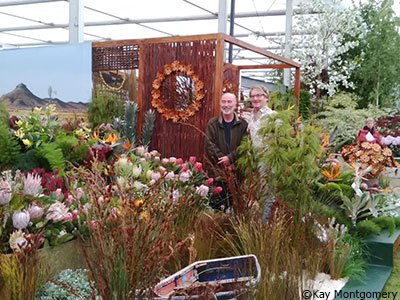 Congratulations to designers David Davidson and Ray Hudson and the team of SANBI staff and volunteers who worked tirelessly to achieve the desired result.
And a BIG thank you to the countries who lent a hand to South Africa when it seemed there was no hope.
There had been some tense moments when it looked  as if the stand might not be completed in the allotted time because on Sunday morning – with just hours to go before the cut off time – only part of the consignment had been released from customs, and then not the feature plants!
A Spirit of Generosity and Ubuntu Amongst the Nations
But a wonderful story of uBuntu unfolded once it became clear that the whole consignment was not going to get there.
Volunteer Jenny Badenhorst, a landscaper from Johannesburg, and Jo Lankester walked the show to see who had the appropriate plants and with warmth and generosity other exhibitors, from other countries, rallied around offering whatever was required to fill the gaps.
While still calling the exhibit "a celebration of 40 years" and despite not being able to showcase the feature plants, the generosity of international exhibitors made up for some of the disappointment.
Plants were donated from Kientzler in Germany, and other contributions came from, amongst others, Prince Harry's Lesotho garden which donated kniphofias and aloes; Australia donated proteas, aloes, polygala…and the use of their forklift to assist.  France donated juncea and grasses.
More than 550 stands at show
"It was a race against time," says designer David Davidson, "we advised the judges of our predicament and these factors were taken into account when judging."
Davidson and Hudson have been responsible for designing and creating the Kirstenbosch-South Africa exhibit for the RHS Chelsea Flower Show for 22 consecutive years, together with a small core team and an enthusiastic crew of volunteers. During this time the South African exhibit has collected an amazing 16 RHS Gold Medals (bringing the total since 1976 to 33)!
When Monday morning dawned, the judges make their way around the more than 550 stands that make up the show. It's an onerous task selecting and debating the awards and there is no hint as to what the various exhibitors have achieved. Then it is celebrity time as London's rich and famous wander the show stopping here and there for a word and a photograph.
Finally it is time for Her Majesty Queen Elizabeth II and her entourage to tour the show before this preview day comes to an end and exhibitors are left to wait anxiously for results.
But it is not until Tuesday morning (May 19, yesterday) – opening day – that the awards are revealed and it is a mad dash to get in to see whether (or not) dreams have come true.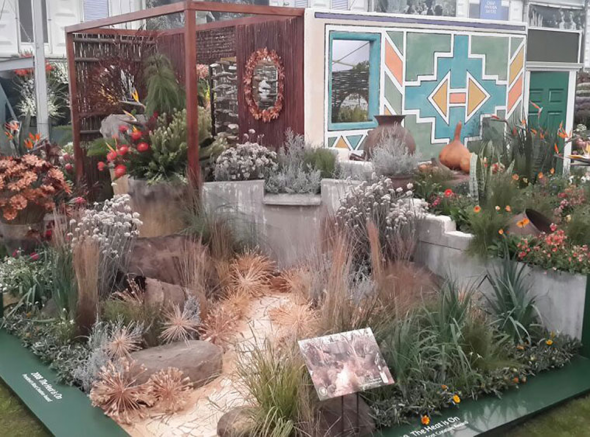 Retrospective tableau of memorable exhibits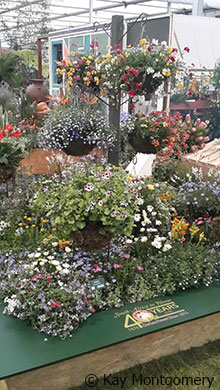 This is the scene every year for  the team who put together our exhibit at this 'Olympics' of flower shows and, in  a year that has seen Kirstenbosch National Botanical Garden win several major awards, it was with great joy and jubilation that the SANBI-Kirstenbosch 40th entry should notch up a Silver Gilt – the same as they achieved in 2014.
This year's display included a retrospective tableau of memorable exhibits, as well as a display of 'Plants South Africa Gave the World' and a named flower specimen display.
"This year's exhibit showed themes and iconic elements from seven earlier gold award exhibits, recreated to commemorate this special anniversary," says David.
A special tribute to the work of British floral designer Pam Simcock, who was responsible for the design and creation of the Kirstenbosch-South Africa exhibits staged at Chelsea on behalf of the South African government for the first 18 years of our participation at the show, was also included.
Success for South Africa
This 40th display was a treasure trove of information and colour and a trip down memory lane for those who are regular visitors and contributors to the show.
SANBI CEO Tanya Abrahamse had high praise for the team and said that "many visitors to South Africa travel as a result of seeing our exhibit at Chelsea, and we welcome the opportunity of showing off our beautiful country through its ten botanical gardens."
Celebrating botanical and cultural diversity
Once again the important role that botanical gardens play in contributing to the country's tourism statistics is underscored. As a snapshot to the country's botanical heritage it is these gardens coupled with the wide variety of unusual attractions that bring many visitors to the country.
The Kirstenbosch Centenary Tree Canopy Walkway, which was declared the Most Beautiful Object in South Africa (MBOISA) at Design Indaba Expo 2015, is one such attraction that has increased visitorship to Kirstenbosch.
Important tourist attraction
 A popular destination, the SANBI-Kirstenbosch stand attracts many of the more than 150 000 visitors to the Chelsea Flower Show and provides a showcase for South Africa.
Kirstenbosch is one of the most important tourist attractions in South Africaand the tourism footprint in conservation areas and botanical gardens is what generates the income to support the sustainability of these assets.