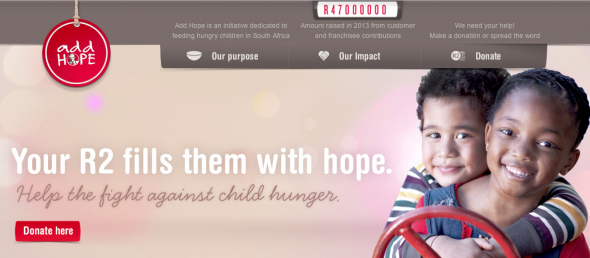 South Africa – you've been nominated to #ChangeOneThing
Joining the movement to turn social media game #NekNomination into a good thing, KFC South Africa has donated R25,000 to Add Hope; and has nominated all South Africans to take part too. KFC's MD Doug Smart said KFC is "nominating you all to #ChangeOneThing by adding hope in-store or online at www.addhope.co.za." In other words, […]

Joining the movement to turn social media game #NekNomination into a good thing, KFC South Africa has donated R25,000 to Add Hope; and has nominated all South Africans to take part too.
KFC's MD Doug Smart said KFC is "nominating you all to #ChangeOneThing by adding hope in-store or online at www.addhope.co.za." In other words, please add your own donations of R2 or more to Add Hope. You can do this at your nearest KFC store if you're in South Africa, or online.
Add Hope is an initiative dedicated to feeding hungry children in South Africa.
KFC will MATCH all donations until this Sunday (9th February).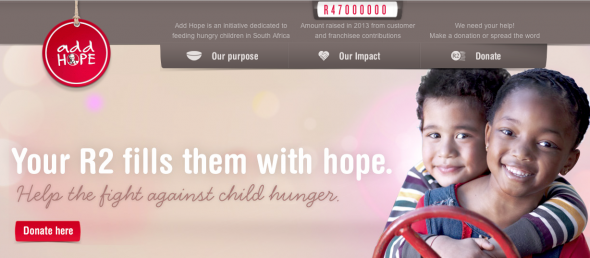 KFC joins SA Breweries as two of the first corporates in South Africa to step up to their RakNomination (Random Acts of Kindness) and ChangeOneThing.
This is the new 'giving' movement  which was started when South African Brent Lindeque created a NekNomination video in which he gave away food instead of  downing a bottle of alcohol as per the original NekNominate rules (which had ended in two tragic deaths in Ireland.)
The South African people, and the South African business world, have been quick to follow Brent's example and perform their own random acts of kindness.
We wait to see the RakNomination videos from Nando's, Coca-Cola South Africa and Vodacom! All have been challenged in the last few days.