South Africans are going bokke for their #Bokke tonight after the Springboks' spectacular win in the Rugby World Cup (RWC) Pool B match at Olympic Stadium in London. South Africa thrashed the USA 64-0. (Watch highlights above or below.)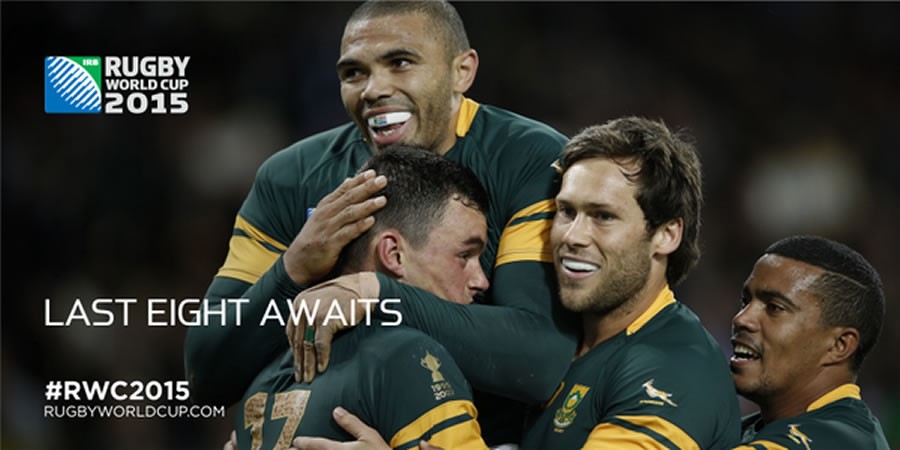 To be fair the USA team played with heart and performed well in the first half, managing to keep the score to a respectable 0-14.
In fact at half-time many Bok fans were complaining. One facebook user wrote on the Springboks' page: "Not very convincing Boks. Too many penalties against us. Mogge troffe rugby. Really disappointing!"
But in the second half, with the South Africans on the attack, it all fell apart for the Americans, and South Africa's points climbed higher than a fire at a Sunday braai…leaving the USA with the dubious accolade of suffering their biggest defeat in World Cup history. Some wrote on Twitter that it was like watching America's Funniest Home Videos.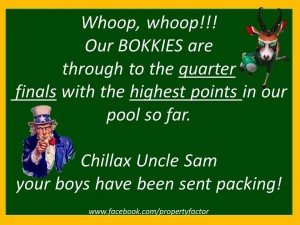 And the admin on the Springboks' page drily responded to the disgruntled fans with: "Happy with second half we hope? :)"
This overwhelming win will surely be as memorable as South Africa's shock loss to Japan in its opening match…and is sure to generate just as many jokes. Already the Jacob Zuma and Barack Obama photo has been resurrected with references to tonight's match.
Tonight's win means the Springboks have won Pool B and will go through to the quarter-finals against Wales or Australia.
Winger Bryan Habana scored a hat-trick of three tries bringing his total record of RWC tries to 15, and making him become a world record holder with Jonah Lomu! It was the Happy Habana show! The 32-year-old has now clocked up 64 test tries, equal to former Australian player David Campese. Five more and he will equal former Japanese player Daisuke Ohata's world record of most tries in test rugby (69).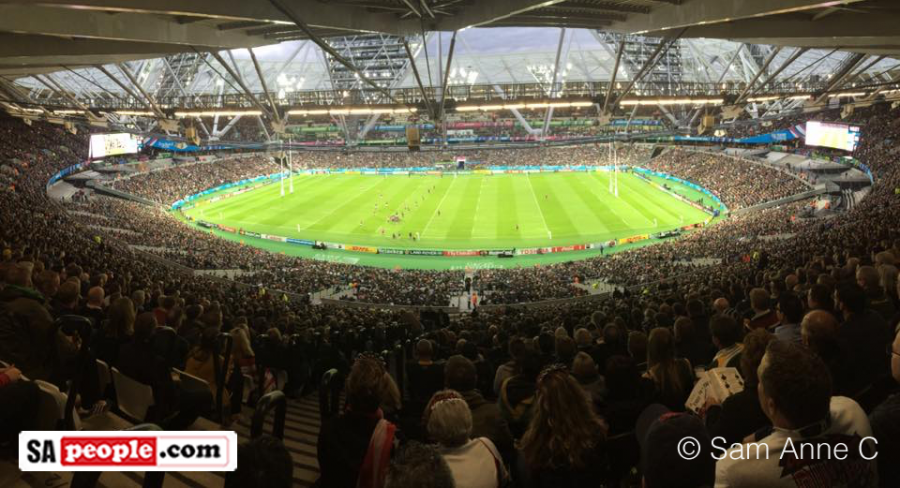 Other South African tries tonight (ten in all!) were scored by Jesse Kriel, Bismarck du Plessis, Lwazi Mvovo, Damian de Allende (his first try for SA) and two from Francois Louw. Rudy Paige made his test debut and Morné Steyn, who made his first appearance on the field at this World Cup, converted three of the tries. Handre Pollard converted four.
South Africa joins Australia, Wales, New Zealand, France and Ireland in the RWC2015 quarter-finals. (We're not yet sure who the other two teams will be.)
As Twitter use Fallon Wiese tweeted: "Sorry USA…well played tho'…"
Watch Video: South Africa v USA – Match Highlights and Tries – Rugby World Cup 2015
Uploaded by World Rugby: "South Africa ran in 10 tries as they demolished USA at Queen Elizabeth Olympic Park and qualify for the quarter-final stage."
THE HABANA SHOW A 19-min hat-trick brings @BryanHabana level with @JONAHTALILOMU on 15 #RWC tries with 18 mins to go pic.twitter.com/LvJEPfBGlN

— Rugby World Cup (@rugbyworldcup) October 7, 2015
What a game to be at!! The boys absolutely destroyed it tonight… Sorry USA – well played tho ? #RSAvsUSA #RWC2015 pic.twitter.com/h7WIXEUay2 — Fallon Wiese (@Fallonwiesex) October 7, 2015
BRILLIANT BRYAN @BryanHabana's 15 #RWC tries – so far… 6 v #SAM 5 v #USA 2 v #ARG 1 v #SCO 1 v #NAM #Habana pic.twitter.com/uPtKlodkW4

— Rugby World Cup (@rugbyworldcup) October 7, 2015
Lol who did this ? ?????? #RSAvsUSA pic.twitter.com/extbMkJSbD — FreeStateBeachParty (@RealTshemedi) October 7, 2015
Humour from the Casual Cartoonist: